Hoang Xuan Vinh, the Olympic winner, must endure serious pressure when he competes at the ISSF World Cup Rifle/Pistol/Shotgun in India.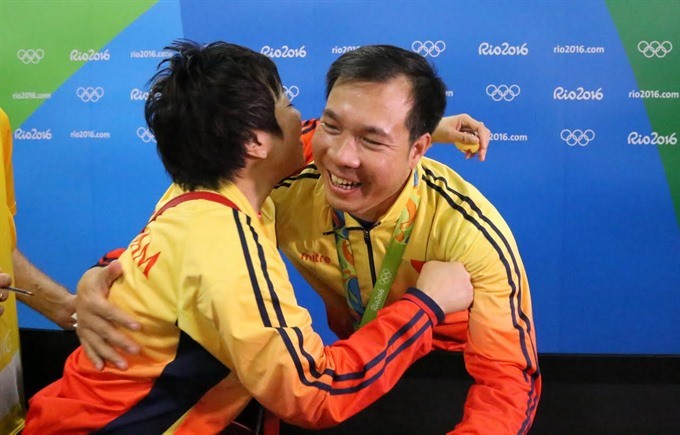 Hoang Xuan Vinh (right) and his coach Nguyen Thi Nhung celebrate with each other after Vinh wins his Olympic gold medal at the Rio Games last August. — Photo congly.vn

"Pressure? Yes, of course, because he is the reigning Olympic champion and world's top athlete of the men's 10m rapid pistol," said coach Nguyen Thi Nhung about her most famous marksman, who also earned a silver medal in the 50m pistol and placed No 2 in the world in this event.

"I, myself, and South Korean expert Park Chung-gun also have to share the pressure with him," she added.

The New Dehli tournament will be the first that Vinh is to take part in, after waiting six months since the Rio Games. Vinh spent time joining in meeting with family and friends, along with practicing.

"We have to build up new curriculum and methods to help him at least maintain his peak and then jump to a new height. He is on top of the world, but it does not mean he can be there forever. We have asked him to try his best, focus 100 per cent on training, while strictly follow our rules.

"Six months away from the shooting range, in his comeback he also carry people's hopes to triumph. It could be a positive force for him. As a world-class shooter I believe that he could reach his target and get best results," Nhung said.

In the past, Vinh won two gold medals, one silver and three bronze medals at World Cups. His title in 2013 was the first for Việt Nam at the world-level event.

Vinh will leave for a two-week training course in South Korea on Friday, as it has one of the best shooting centres in the world. He then moves to India for the Cup, which will be organised from February 22-March 4.

Apart from the World Cup, the 42-year-old marksman and his teammate Tran Cuoc Cuong are key athletes for the team that aims to earn gold at the August Southeast Asian Games in Malaysia.
They will both participate in their strong points at the 10m rapid pistol and 50m pistol for individual and team categories.
Nhung noted that there were typical challenges for athletes during the SEA Games.
"At the SEA Games, heavy pressure as well as a lack of focus after his Olympic win may affect his performance. In shooting, just a twinkling of a lack of concentration may lead to failure, as every mistake could make athletes fall," said Nhung, who is also vice president of the Việt Nam Shooting Federation.
In Malaysia, Việt Nam want to win up to four gold medals.
"Our biggest rivals will be Thailand, Singapore and the hosts. Among them, Thailand are especially strong in the women's pools. Elsewhere, Indonesia was not a threatening rival in the past, but they are rising strongly with much support to prepare for the Asian tournaments, and they could vie for golds in some categories," said Nhung.
The coach added that Việt Nam was at the in men's individual pistol events, but they needed to improve their team's results.
"Việt Nam has not received as much support as other countries for the Games. In comparison, between all teams, I believe that if we could earn four gold medals in Malaysia it would be a success," Nhung added.