Ho Chi Minh City Football Club were relegated to the First Division after a 2-3 loss to Binh Duong in the last round of the Vietnamese League Sunday, while Nam Dinh Club have another chance to stay.
The final round of the 14-team league widely attracted public attention with games between HCM City and former champions Binh Duong, Nam Dinh vs. Dong Thap, Military Zone 4 vs. Khanh Hoa, and The Cong vs. SHB Danang, who were already this season's champions three rounds earlier.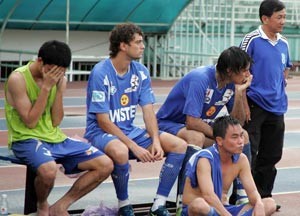 Ho Chi Minh City Club players show sadness due to relegation at Thong Nhat Stadium in the city on Aug. 23 (Photo: SGGP)
Before the games, all of HCM City, Nam Dinh, Military Zone 4 and The Cong had been facing relegation.
After all, HCM City were relegated after Binh Duong's win 3-2 at Thong Nhat Stadium, home to their opponents.
About 10 minutes before the final whistle, the hosts still saw some light as they lead 2-1. However, Helio equalized for Binh Duong in the 82nd minute with a penalty and Philani headed to score in the 88th minute.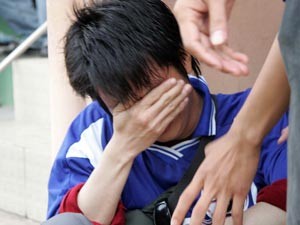 A Ho Chi Minh City fan cries for his team's relegation at Thong Nhat Stadium in the city on Aug. 23 (Photo: SGGP)
With the defeat, HCM City ranked 13th among the 14 teams, two points behind 12-placed Nam Dinh. Meanwhile, Thanh Hoa at the bottom had been relegated already.
Nam Dinh will play Can Tho in a play-off on Aug. 30 and the winners will compete in the V-League in the next season.
Can Tho ranked third in the First Division. Champions Ninh Binh and runners-up Hoa Phat Hanoi have put their names to the league.
This year's league wrapped up Sunday with SHB Danang being the champions for the first time since 1992. Last year's champions Binh Duong came second, Song Lam Nghe An third, T&T Hanoi fourth, Dong Thap fifth and Hoang Anh Gia Lai six. From seventh to 11th were Hai Phong, Khanh Hoa, The Cong, Dong Tam Long An, and Military Zone 4.
It was worse for Ho Chi Minh City fans as Saigon United, another club in the city, were relegated to the Second Division from the First Division after they finished the season at the bottom.