Vissai Ninh Binh, which won the First Division to win promotion to the topflight for the first time next year, is set to buy B. Binh Duong striker Nhu Thanh for a V-League record sum of VND8.5 billion (US$460,000).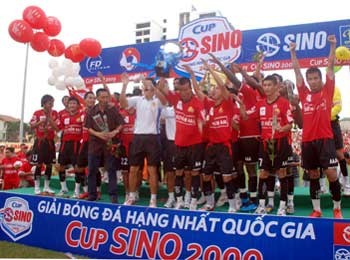 After winning the First Division title this year, Vissai Ninh Binh is in a hurry to recruit some top players for its V-League debut in 2010
The club, which has a war chest of some VND50 billion ($2.7 million), has wrapped up talks for the player and the deal is expected to be signed soon. 
The previous record was VND7 billion ($378,000) for Cong Vinh when he moved from Song Lam Nghe An to T&T Ha Noi in 2008. 
It is also in talks with Dong Tam Long An to buy striker Viet Thang for around VND6 billion ($324,000) and with Hoang Anh Gia Lai for wingback Van Nhien for VND3 billion ($162,000). 
Also on its wish list are winger Thanh Luong of Ha Noi ACB, and defender Van Bien and midfielder Duc Duong of DPM Nam Dinh.  
But top of the list is Brazilian Antonio Carlos of Dong Tam Long An who is expected to cost VND14 billion ($756,000). But the club will wait until he gets Vietnamese citizenship, which is expected to happen soon.  
Vissai Ninh Binh is also considering stopping contracts with 10 of its players, including Luu Ngoc Hung, Hung Dung, and the Nigerian striker Suleiman O. Abdullahi. 
Clearly, footballers' rates are soaring. Hoang Anh Gia Lai and Dong Tam Long An only spent VND10 billion ($540,000) on its players when they won the V-league title in recent years.  
But by 2008, when B.Binh Duong won its second consecutive title, this had risen to VND40 billion ($2.1 million). 
This year's champion SHB Da Nang spent much less, thanks to some excellent players and a smart coach, Le Huynh Duc.  
But T&T Ha Noi and Vissai Ninh Binh, newcomers to the topflight, will have no such luxury and have to splurge if they are to achieve any success. B.Binh Duong record spending is under imminent threat.