Viet Nam held Democratic People's Republic of Korea to a goalless draw in Ha Noi Thursday and will take on Thailand today in the final group match to decide the fate of the T&T Football tournament.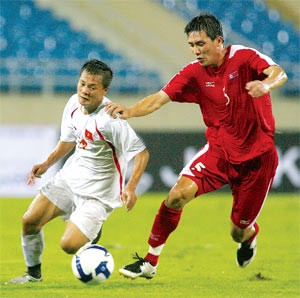 VN's midfielder Thanh Luong (L) tries to pass halfback Ri Kwang Choi in a surprise encounter (Photo: SGGP)
The host began well though the first attempt on goal came from Korean striker Mun In Guk in the 7th minute. But the ball found the crossbar of VN goalkeeper Hong Son's goal. 
In the 13th minute Vu Phong darted in off a solo run only to meet with the same result. 
Soon, both teams began to attack relentlessly but without being able to find the net.  
After a second unsuccessful shot by Mun in the 16th minute, the host team's Thanh Luong and Viet Thang raced into the penalty area in the 19th minute, but again in vain.  
A shot a minute later by Thang found the crossbar. 
In the second half, things changed dramatically as the Koreans began to control the game.  
But the two teams' defenses held. In the 83rd minute striker Ri Hung Ryong ran past the Vietnamese defenders and took a fierce shot from close range only for Hong Son to make a terrific save.  
The host's last chance came in the 88th minute when midfielder Minh Phuong, after a solo effort, passed to striker Quang Hai who could make nothing out of it.  
The final match today between Thailand, which beat Korea in an earlier match, and Viet Nam will decide the tournament winner. 
A fourth team, Uzbekistan, pulled out before the event began. 
The teams finishing first, second, and third are set to win US$40,000, $20,000, and $10,000.