Viet Nam hope for another win when taking on Tajikistan in the Asian Football Confederation Futsal Championship's Group C round match on February 13 at the Universal Stadium in Tashkent.
Viet Nam, the 2014 quarter-finalists, are now sharing the top position with Thailand after the first victories by both sides.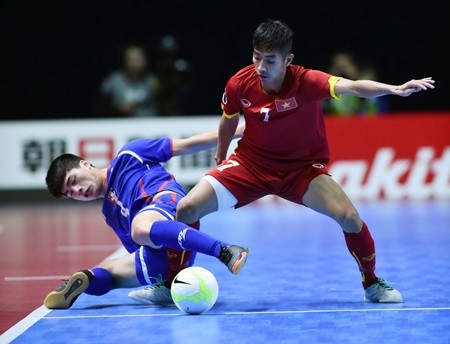 Vietnamese forward Phung Trong Luan (right) vies for a ball against Chinese Taipei Lin Chih-hung during their group C first match. Viet Nam will next see Tajikistan while Chinese Taipei meet Thailand on February 13. – Photo hff.
The second win will put them ahead in achieving their target of entering the last eight round.
"Tajikistan have a different system to Chinese Taipei but they counter-attack in a similar way," Viet Nam's head coach Bruno Formoso was quoted as saying on the AFC website from the Uzbekistan capital.
"We need to improve and be ready for their counter-attacks because they go from back to front very quickly.
"We need to know how to open up their defence and go in there with a good game plan, but we are confident."
Tajikistan on the other hand need a win to improve their ranking after a narrow loss to Thailand.
The team who entered the quarter-final round in 2007, where they were knocked out following a 3-1 defeat to neighbours Uzbekistan, have taken part in the last seven editions of the championship.
"The next two matches will be the last chance for us, so it is a game we need to try and win," coach Husein Shodiev said on the-afc.com.
"We must move on from the first match and try to better our chances when we counter-attack."
In another fixture of the group, title favourites Thailand will face Chinese Taipei whose coach Chen Yung-Sheng plans to prepare their defence well and counter-attack against experienced and solid Thailand.
Chen says his team is confident about the game and still believes his team has a chance if they can win both their remaining matches.
The Group D's second round also takes place on February 13.
Reigning champions Japan will face Malaysia, while Australia and Qatar meet in a later match.
In the Group A action on February 12, Aroan Nawaf's equaliser eight minutes from time ensured that West Asian rivals Saudi Arabia and Lebanon shared the spoils after an entertaining 3-3 draw.
Meanwhile, Mohammad Keshavarz netted a second-half brace as Iran closed in on a place in the quarter-finals after they thrashed China 7-0 in the Group B at the Universal Stadium