Viet Nam coach Alfred Riedl has probably had headaches worrying about injuries of his strikers but is trying for a good result from his team's opening Group B encounter with Asean defending champions on Saturday.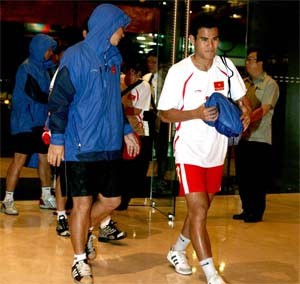 Vietnamese footballers return to the Amara Hotel in Singapore under rain after Thursday's afternoon training session (Photo: SGGP)
Forwards Le Cong Vinh, Nguyen Anh Duc and Dang Phuong Nam are suffering injuries and they have little chance to play the defending champions in Singapore, the host nation for Group B. 
Striker Cong Vinh still not fit to play Singapore on Saturday (Photo: SGGP)
Of the three strikers, Cong Vinh, who had outstanding performance in the King's Cup two weeks ago in Thailand, is probably the worst hit. He suffered a knee ligament injury in training last week and may not be able to get back in shape in time.

Coach Riedl hopes for a victory as his team beat the Lions 3-2 in the King's Cup. Now with time rapidly running out, he hopes his forwards will make a quick return but said a draw with the Lions on Saturday is fine.
A defeat means a mountain of obstacles against Viet Nam on the way to the semifinals of the Asean Football Championship or AFF Cup, called Tiger Cup before.
After their opening match against Singapore, Viet Nam will face Indonesia on Monday and Laos on Wednesday.
This year, coach Riedl does not have Golden Ball Award winner Phan Van Tai Em, who has to stay in Viet Nam due to an injury.
In the regional tournament's Group A in Bangkok, Malaysia crushed the Philippines 4-0 in the opener on Friday.