After an unexpected 0-3 loss to Malaysia on November 12, Vietnam's U22 team faltered once again on Sunday against Ulsan Hyundai Horang-I of the Republic of Korea to bow out of the Grand Royal Challenge Cup 2008 in Myanmar.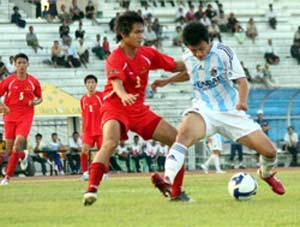 VN's Long Giang (Red T-shirt) tries to stop an attack by Hyundai (Photo: Thanh Nien Newspaper)
Needing a victory to be able to enter semifinal, the Vietnamese players were asked by coach Mai Duc Chung to attack as much as possible to find the opening score. Meanwhile the Hyundai players chose a slow-tempo since they only need a draw to enter semifinal.
In the 38th minute, Dinh Tung nearly put one ahead for Vietnam, but his shot hit the crossbar.
Hyundai took advantage of the openings in the defense to score in the 47th, 57th and 68th minute.
Vietnam found a consolation goal in the 80th thanks to cooperation in the air between Quang Vinh and Hoang Nhat Nam.
Hyundai found another opening in the 89th minute to take their tally to four goals.
The Grand Royal Challenge Cup 2008 in Myanmar kicked off at the Thuwanna Youth Training Center Sports Ground on November 11 and will be played until November 21.
National teams from Bangladesh, Indonesia, Malaysia, the Republic of Korea's Hyundai club, Vietnam's U-22 team, and the host Myanmar are competing for the cup.