Vietnamese weightlifters are readying for the 2015 Asian Weightlifting Championships in Phuket, Thailand, from September 3-12.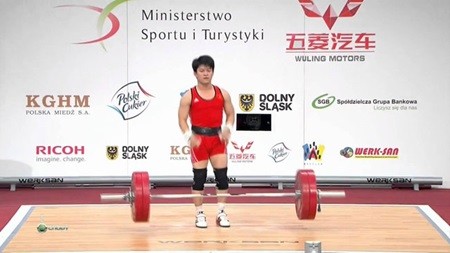 Heavy load: Tran Le Quoc Toan seen at the 2013 World Weightlifting Championship. He is expected to win gold at the 2015 Asian Weightlifting Championships in Phuket, Thailand. — Photo ytimg.com
Viet Nam's five-member team includes Tran Le Quoc Toan, Nguyen Tran Anh Tuan, Nguyen Ngoc Trung, Nguyen Thi Thuy and Vuong Thi Huyen, but will miss its national star, Thach Kim Tuan.
Tuan and his trainers decided to skip the event in order to concentrate on the 2015 World Weightlifting Championships in the US on November 19-28. The US event will present an opportunity for Tuan to secure a berth to the 2016 Rio Olympic Games.
Without Tuan, hopes for a medal are pinned on Toan, who won three gold medals in the men's 56kg category at the recent 2015 National Weightlifting Championships in HCM City. Toan also took gold at the first Southeast Asian Weightlifting Championships in Ayutthaya, Thailand, in June, contributing to Viet Nam's second place finish at the event.
After the impending Asian Championship in Phuket, Vietnamese weightlifters will go to Hungary for a short training session for the world event in the US.
According to Do Dinh Khang, deputy head of the Elite Sports Department of the National Sports Administration, 2016 Olympic berths for weightlifting will be based on the team's achievements in the two world championships in 2014 and 2015.
Viet Nam finished 21st in the men's team performance at last year's world championships in Kazakhstan. If the team also rank 21st in this year's event, they will earn three spots to Brazil.
Khang said selected Vietnamese athletes will continue their training in the US if they win slots for Brazil.