Vietnam has won the championship title at the Korean International Open Karate Championship 2011 with a total of 4 gold medals, a silver medal and five bronze medals.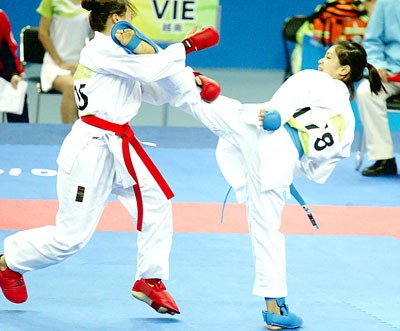 Vietnam's karate champion Le Bich Phuong (R) performing.(Photo:SGGP)
The tournament drew 400 karate champions from 12 countries in both the 'under 18 age limit' and 'over 18 age limit' to compete in both men and women individual and team events at the Busan   Gijang Gymnasium on June 24-26. 
The gold medal winners were Bui Thi Trieu, Le Bich Phuong, Nguyen Van Phung and Kumite woman team 1.
Karate champion Vu Thi Nguyet Anh won a silver medal. Tran Hoang Yen Phuong, Dao Thi Thoan, Nguyen Van Su, Nguyen Quang Phuc and Kumite woman team 2 won five bronze medals between them.