Vietnamese young chess player Pham Tran Gia Phuc yesterday defeated Indian competitor and Uzbekistan player in the U8 standard chess category to grab one more gold medal for Vietnam at the 2017 Asian Youth Chess Championships which was held in Tashkent, the capital city of Uzbekistan, from 31st March till 9th April 2017.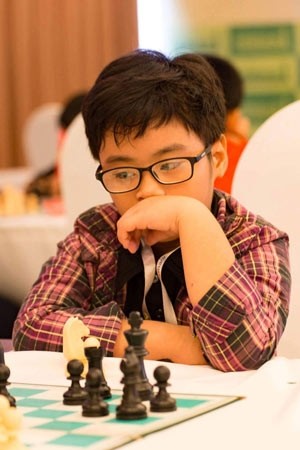 Vietnamese young chess player Pham Tran Gia Phuc

The two competitors in the final round and semi-final round are Ilamparthi A R who is the N.1 seed and  Avazkhonov Alikhon- the N.2 seed.

The medal is the only gold medal of Vietnam sport team in the men's U8 standard chess category, and the second gold medals in the whole competition.
 
Earlier, Nguyen Quoc Huy won a gold medal in the U12 rapid chess category.
In the blitz category, Vietnam sports delegation had total four silver and two bronze medals.
 
At the 2016 Asian Youth Chess Championships, Vietnam owned total seven gold, four silver and six bronze medals.
 
Pham Tran Gia Phuc is the second grade pupil of Duy Tan Primary School in Tan Phu district, Ho Chi Minh City. Last year, he respectively won a gold, a silver and a bronze medal in the categories of blitz, rapid and standard.