The women's football team of Vietnam finished another success story in Laos' Vientiane Wednesday with their Southeast Asian Games triumph over Thailand, who beat them in the 2007 Games final as the hosts.
The Vietnamese women won the gold medal after defeating defending champions Thailand 3-0 in the penalty shoot-out following a goalless draw in 120 minutes at the Chao Anouvong Stadium.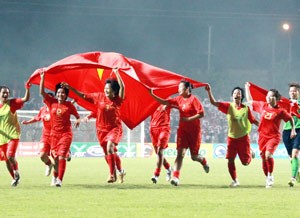 The women's team of Vietnam celebrate their SEA Games title at Chao Anouvong Stadium in Vientiane, Laos Dec. 16 (Photo: SGGP)
Tran Thi Kim Hong, Van Thi Thanh and midfielder Nguyen Thi Kim Tien scored all from the first three penalties while Thailand failed in all the first three. Vietnamese goalkeeper Dang Thi Kieu Trinh denied one and the other two were off the target.
The Vietnamese women won three SEA Games golds in a row in 2001, 2003 and 2005, but came second after the Thais two years ago.
With this year's victory, striker Doan Thi Kim Chi, midfielder Nguyen Thi Mai Lan and skipper Dao Thi Mien also added fourth gold medals to their own collections.
The two teams drew 2-2 in the group stage a few days ago, and both sides started the final carefully.
The Thais controlled the ball more than the other sides did but both teams created scoring chances. And both keepers managed to keep their nets clean after 120 minutes.
Actually, Vietnam striker Minh Nguyet got a very good chance in the beginning of the first extra half but her header from the edge of the smaller box was over the bar, making her team impossible to finish off the game.
Thousands of Vietnamese fans came to the stadium to cheer their women and share happiness with the new champions after the game.
There were five women's squads participating in the 25th SEA Games –Thailand, Vietnam, Myanmar, Laos and Malaysia. They competed in a round robin format with the two top teams qualifying for the final.
Myanmar finished third and hosts Laos came forth. Malaysia were the fifth.