Viet Nam lost to North Korea 1-0 at the AFC Women's Olympic Football Tournament Rio 2016 qualifiers in Japan yesterday.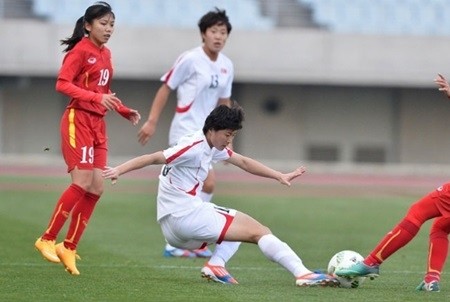 Vietnamese and North Korean players vie for the ball at the AFC Women's Olympic Football Tournament Rio 2016 qualifiers in Japan yesterday.
Ju Hyo-sim scored the game's only goal in the 90th minute.
North Korea have five points after three games, while Viet Nam remain bottom of the group without a single point.
"It was so difficult for us to score today. But this is not the end of this competition and we have to just focus on the next two matches," North Korea coach Kim Kwang-min was quoted as saying by the-afc.com.
"Compared to the qualifiers for the last Olympic Games in London, Asian women's football has really improved so we cannot expect to achieve results at this stage of the qualifiers.
"Only time will tell who will make it through to Rio 2016."
It was Viet Nam's third defeat at the event in Osaka, following a 9-0 loss to Australia on March 2 and a 2-0 loss to China on February 29.
North Korea dominated the first half but were frustrated by Vietnamese goalkeeper Dang Thi Kieu Trinh.
Viet Nam also had several chances to score in the first half but failed to hit the net.
After the break, Viet Nam defended resolutely, denying the North Koreans good opportunities.
However, North Korea scored in the last minute of the second half to secure a 1-0 victory.
"Today we are very satisfied with the team. Even though we lost in the last minute we are very satisfied, the players did well and concentrated and tried their best," Viet Nam's coach Mai Duc Chung said at the the-afc.com.
"We are the only team in the final round of qualifiers representing the South East region. Even being here is a success.
"Maybe we won't make it to the Olympics, but we will ask the players to fight and try to win the last two games."
On March 7, Viet Nam will meet Japan.