To encourage Vietnam's tennis team at the 25th SEA Games, Chairman of the Vietnam Tennis Federation Dang Huu Hai announced prizes of VND50 million for a gold medal, VND30 million for a silver, and VND20 million for a bronze.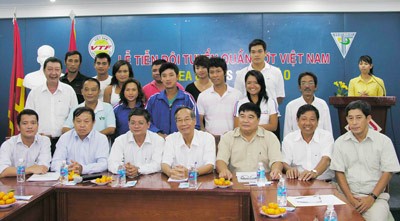 Vietnam' tennis team pose a photo before going to Laos on December 4. (Photo: SGGP)
General Director of the Tanimex Company and Chairman of the Ho Chi Minh City Tennis Federation Nguyen Minh Tram also announced that Tanimex would match the awards offered by the Tennis Federation.
The company set up and invested in the tennis and volleyball teams, which both always lead at the National Championships.
The Vietnam Tennis Federation held a ceremony on December 4 to see off the team as they head to Vientiane, Laos for the Games.
On the occasion, the company offered gifts for members of Tanimex's tennis and volleyball teams.
Binh Duong Province Tennis Federation's General Secretary Nguyen Ngoc Minh awarded each player US$200.
Vietnam's tennis team includes nine players: Do Minh Quan, Le Quoc Khanh, Bui Tri Nguyen, Nguyen Thanh Trung, Huynh Chi Khuong, Huynh Mai Huynh, Nguyen Thuy Dung, Tran Lam Anh, Huynh Phuong Dai Trang and coach Tran Trong Anh Tu.
While this year's team is ranked somewhat lower than other Southeast Asian countries, its goal is to secure two bronze medals in men's doubles, an event they won last year.