TOKYO, Oct 31, 2010 (AFP) - Asian champions Thailand powered their way through to a straight-set victory over Croatia in Pool C at the world women's volleyball championship in Tokyo on Sunday.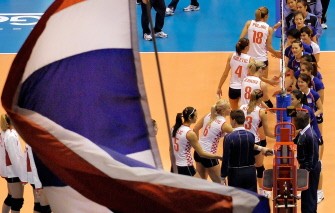 A Thai supporter waves the national flag to celebrate the victory over Croatia while Thai players (R) shake hands with Croatian players. AFP
Onuma Sittirak scored the team's best of 16 points to lead Thailand to a 25-15, 25-14, 25-17 victory for their second win against one defeat in the six-team round robin preliminary competition in Matsumoto.
"My players did a good job. They followed our game plan very well. They concentrated very well on every point. It wasn't easy to get points because Croatia is a very good team," said Thai coach Kiattipong Radchatagriengkai.
"They beat Cuba, so we were nervous. They are tall and good at blocking, so it was not easy, but we tried to play in our usual style and take things point by point," he added.
After three days of the championship, defending champions Russia, 2006 bronze medallists Serbia and European champions Italy remained unbeaten with three straight wins.
Russia eased aside Canada 25-13, 25-16, 25-21 in Pool D in Osaka, while Serbia, who played as Serbia and Montenegro four years ago, outplayed Peru 25-21, 16-25, 25-21, 25-18 in Pool A in Tokyo.
Italy, who defeated European silver medallists the Netherlands on Saturday, coasted to an easy 25-9, 25-7, 25-21 win over Kenya in Pool B in Hamamatsu.
Elsewhere, former champions Cuba, former European champions Italy, and the Czech Republic posted their first wins.
Cuba outgunned Kazakhstan 20-25, 25-15, 27-25, 23-25, 15-10, while Poland whipped Costa Rica 25-14, 25-12, 25-15. The Czech Republic defeated Puerto Rico 25-14, 25-14, 25-17.
Turkey, who won a surprise victory over Athens Olympic gold medallists China on the first day, outclassed the Dominican Republic 25-20, 25-14, 23-25, 23-25, 17-15 for their second win.