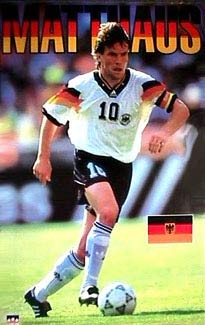 Matthaus, Germany soccer player
The Vietnamese Television (VTV) has planned to broadcast the final round of World Cup 2006.
Accordingly, three channels VTV2, VTV3 and VCTV3 will televise live the 64 matches, World Cup panorama (broadcast at 18:45 p.m before the daily news), comments before and after the matches, and World Cup studio (broadcast in 45 minutes before daily matches).
Particularly, a group of VTV reporters will be stationed at 12 stadiums in 12 cities of Germany for one month and a half (from May 29 to July 11) to update the latest information and images from Germany. They will also interview experts and supporters, report the atmosphere before and after the matches and the latest information about the teams during World Cup 2006.
Of the 64 live matches, there are 48 matches of the group stage, of which 10 are played at 20 p.m, 8 at 21 p.m, 11 at 23 p.m and 19 at 2 a.m (Viet Nam time).