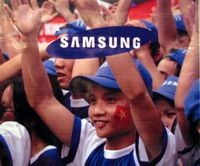 The Samsung-sponsored charitable walk 2005 in Ha Noi
About 16,000 people or more are expected to join a Samsung-sponsored walk in Ha Noi this Sunday morning, May 28, for charity, the organizers have announced.
The organizers, the Hanoi Sports Department and Ha Noi Communist Youth Union, call on each participant to donate some money to help poor pupils. These donations and Samsung's sponsorship are expected to reach VND150-200 million (about US$9,400-12,500). All people are welcome to make material donations.
Samsung Viet Nam Electronics Co. will offer award prizes for this walk of 3.5 kilometers. From 2002 to 2005, the company sponsored four annual charity walks in Ha Noi to help Agent Orange affected children. In all, the walks attracted about 65,000 participants, including foreigners, and raised almost VND800 million for charitable purposes.