Nearly 200 athletes, head coaches and 5,000 people attended in the event.

The event was co-organized by the Vietnam Olympics Committee and the Ho Chi Minh City Culture and Sports Department.
The Culture, Sports and Tourism Ministry has approved a name list of 681 Vietnamese athletes, head coaches and relevant officials who will participate in the large scale sport event.
Accordingly, Tran Duc Phan is head of the Vietnamese sport delegation.
At the regional sport event, Vietnamese delegation will compete 32 subjects such as swimming, track and field, shooting, football, archery, volleyball, art swimming, cricket, bowling, indoor hockey …
Vietnam has set a target to earn at least 11-12 gold medals in karate-do, taekwondo, silat … and stand in top three on the medal tally of the sport event.
Members of the Vietnam sport delegation laid wreath to President Ho Chi Minh's Statue in front of office of the Ho Chi Minh City People's Committee; and performed sport items at Nguyen Hue Walking Street.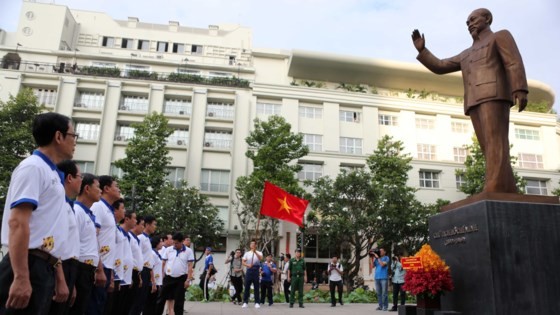 Members of the Vietnam sport delegation lay wreath to President Ho Chi Minh's Statue