CAPE TOWN, June 29, 2010 (AFP) - Spain coach Vicente Del Bosque insists his team will not be underestimating Paraguay after beating Portugal 1-0 to set up a quarter-final clash with the South Americans.
The European champions had a second-half David Villa strike to thank for their victory on Tuesday and Del Bosque was happy with what he saw.
"The match was extremely intense," he said. "It was quite even in the first half, but we always controlled the game and in the second half we were better than them.
"We had greater depth but it was difficult game and our rivals were extremely solid."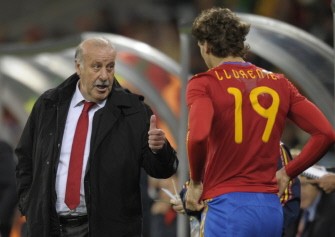 Spain's coach Vicente Del Bosque (L) talks to Spain's striker Fernando Llorente during the match Spain vs. Portugal on June 29, 2010. AFP
Villa pounced in the 63rd minute, chipping a rebound over goalkeeper Eduardo after his first shot was saved, to keep his team on track for their first ever World Cup title.
If they beat Paraguay on Saturday then Argentina or Germany await them in the semi-finals, although Del Bosque is only looking ahead one match at a time.
"We shall not underestimate Paraguay and prepare for them with great respect," he said of a team who won a dramatic penalty shoot-out 5-3 against Japan after their last 16 in Pretoria finished scoreless.
"They have very good defenders but also attackers. We must be fully focused to win that match.
"We know how difficult it is to be victorious, we can't take anything for granted. We must be hugely respectful of our next opponents."
Barcelona's Villa, who now has four goals in South Africa, refused to see Spain as clear favourites against the Paraguayans, who are in their first ever World Cup quarter-final.
"I am very happy tonight, although there are two favourites for the quarters. However, I am confident we can come through," he said.
Spain midfielder Xabi Alonso warned his teammates not to get carried away by their progress into the last eight.
"It's still a long way from the semi-finals. We know we must not get ahead of ourselves and that we have to concentrate on our next match against Paraguay."
But Alonso said he was happy with the way his side prodded away at the stubborn Portugal defence until Villa provided the crucial second-half breakthrough.
"It was important to get past this stage against such a good side like Portugal. We showed great patience and didn't panic. The goal came and we dominated the rest of the match."