Despite their expected result in the 2011 Sudirman Cup, Vietnam badminton players are believed to play better if they are provided with a more careful preparation.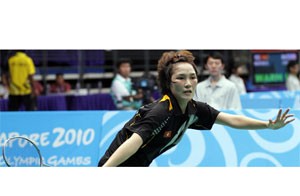 Vietnam's Vu Thi Trang in the 2010 Singapore Youth Olympic Games (Photo: kumpoo.vn)
The 23rd standing in the Double Star 2011 Sudirman Cup BWF World Team Championships well reflected the ability of Vietnam badminton players in the badminton world map. This was also the position that Vietnam was given from the Badminton World Federation based on the best results Vietnamese players ended up with in the men's singles, women's singles, men's doubles, women's doubles, and mixed doubles.
Vietnam badminton players generally attained their goals because they played wholeheartedly with their aptitude. While Nguyen Tien Minh admirably carried out his mission as the crucial member of Vietnam badminton team, Vu Thi Trang considerably showed her advancement in the world competition. This year, Vietnam's Vu Thi Trang and Nguyen Tien Minh were the two undefeated players thanks to their total wins to Swedish, South African and Bulgarian players. 
Three Vietnam duos, namely Bang Duc - Manh Thang, Vu Thi Trang - Nguyen Thi Sen and Bang Duc – Hong Gam, each only lost once to Swedish pair. Their failure led Vietnam team to their second place in Group 3B and also a chance to compete for the 21st standing in this year's Sudirman Cup. It was such a pity because Vietnam team just needed one win in the three doubles to defeat Sweden 3-2 and lead Group 3B.
The unsuccess of Vietnam team in this tournament was predictable because they were not quite well-prepared for this competition. They were gathered together from HCMC, Hanoi and Da Nang only one day before the tournament and could not timely coordinate in a perfect teamwork. They were also not provided with a rational tactic like the situation of two duos Bang Duc – Manh Thang from Hanoi and Vu Thi Trang – Nguyen Thi Sen from Da Nang. The reason was that they were arranged to be trained by Nguyen The Huy, a coach from HCMC who has not worked with them before and known their strength and weakness.
It is unintelligible that Vietnam Badminton Federation did not assemble the players and their coach at least one week before the event so that they could have more time to cooperate with one another better. If a well-preparation had been made for a competition focusing on teamwork like that, Vietnam badminton could have brought home more amazing achievements.