BIRMINGHAM, United Kingdom, Nov 28, 2010 (AFP) - Arsene Wenger is confident he will have the final word in his long-running argument with Jose Mourinho after Arsenal responded to their critics with an emphatic 4-2 win at Villa Park to underline their Premier League title credentials.
Wenger and Real Madrid manager Mourinho have become involved in their latest verbal tangle over Real's red cards for Xabi Alonso and Sergio Ramos in the Champions League victory over Ajax in midweek.
Wenger virtually accused Mourinho of cheating after Alonso and Ramos were charged by UEFA following claims they deliberately got sent off to avoid being suspended in the knockout phase.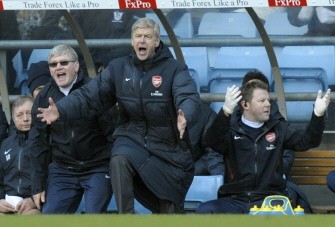 Arsene Wenger (2nd R) reacts during the English Premier League football match between Aston Villa and Arsenal at Villa Park, Birmingham on November 27, 2010. AFP
Mourinho reacted furiously to Wenger's criticisms by sneering at the Arsenal boss's poor record and his failure to win even "a little trophy", but after bringing to an end a miserable week by briefly climbing to the summit of the table, Wenger is convinced his team have the inner strength and desire to claim top spot when things really matter in May.
"It was a good mental response. This team is very interesting. They are all on the same wavelength and want to play the same football," Wenger said.
"They want to fight for each other too. It is very interesting to see and there is a lot more to come from this team.
"Everyone said it was a terrible week for us, but we went to the top of the table. That is the modern world. It is always definite and forever for one minute to the next. I will let people judge and we will see what happens. That is the football challenge."
After the misery of letting a two-goal lead slip in the north London derby and the subsequent embarrassment of losing to Braga, Arsenal were delighted to find sanctuary at Villa Park.
It is their favourite place apart from the Emirates and they stretched their unbeaten run to 12 games after a bewildering first half which Gerard Houllier admitted his team just could not live with.
They answered their critics with goals from Andrey Arshavin and a superb volley from Samir Nasri, before second half goals from Marouane Chamakh and Jack Wilshere prevented a third straight defeat.
Wenger knows he needs to improve form at the Emirates though, if Arsenal are to really mount a serious challenge, saying: "I don't think we play with fear at home. There is more pressure, but maybe we are a little too confident sometimes. We need to improve that and play with more tempo."
These are worrying times for Aston Villa manager Houllier, who has just two wins in ten Premier League games ahead of returning to face his former club Liverpool next Monday.
A host of injuries to key players has meant exposing youngsters who are clearly not up to the week-on-week demands.
"I have to say we missed the first half. We were poor and we did not do well enough. I don't know if we paid them too much respect," he said.
"It is difficult for us because we are missing many experienced players, but we have to fight and stick together. Sometimes you have to be honest and say that you were beaten by a better team. It is as simple as that."
The only real bright spot for Houllier will be the two goals of youngster Ciaran Clark, but he will have to find a better performance than this for Wednesday's League Cup quarter final against bitter rivals Birmingham City, otherwise the jeers that rang round Villa Park at half-time will only get louder.