LONDON, April 1, 2010 (AFP) - Arsene Wenger believes Arsenal can defy the odds again in Barcelona next week and dump the holders out of the Champions League.
An unlikely comeback saw Wenger's men secure a 2-2 draw at the Emirates on Wednesday evening in a match that was summed up by the shot count: 22 for Barcelona against six for the home side.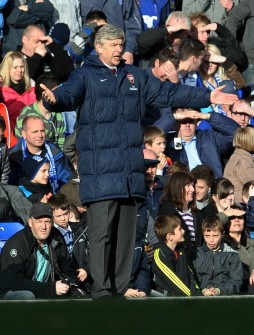 Arsene Wenger (AFP photo)
But that stat will be irrelevant when battle resumes in the Nou Camp on Tuesday and Wenger was upbeat about his squad's prospects of unsettling opponents who will be without first-choice centrebacks Carles Puyol and Gerard Pique, both of whom are ruled out of the second leg through suspension.
"It would be a big achievement but I believe we can do it," Wenger said. "I know we can make life difficult for them over there."
Barcelona might easily have put the tie beyond any reasonable doubt during a scintillating opening 20 minutes at the Emirates, but a combination of inspired goalkeeping by Manuel Almunia and wasteful finishing from Zlatan Ibrahimovic let Arsenal off the hook.
"Certainly we have the feeling in the first part of the game they could have killed us off," Wenger acknowledged.
"But don't forget that we had, as well, many chances. I believe on the counter attack we can be very dangerous.
"Barcelona are a great team and I accept we were lucky that they did not score in the first 20 minutes. But if I have any regrets it is that the goals we conceded were cheap ones. Without those I felt we could have won the game.
"You have to give credit to my team for the mental strength they showed. At 2-0 it could easily have gone to five but they came back to 2-2."
Ibrahimovic made amends for his early profligacy by scoring twice early in the second half but Arsenal levelled the tie thanks to a strike from substitute Theo Walcott and a late penalty from Cesc Fabregas.
Fabregas will miss the return leg after collecting another booking here and could be out for the rest of the season after limping off injured shortly after converting the spot-kick that resulted in Puyol being sent off.
Wenger's optimism was encouraged by the impact England winger Walcott had following his introduction immediately after Barcelona's second goal.
"He had a huge impact when he came on and he has qualities that can be useful on a big pitch like Nou Camp," the Gunners boss added.
The Frenchman's analysis of how delicately poised the second leg is was endorsed by Josep Guardiola, the Barca coach, who admitted his side had allowed a fabulous opportunity to kill the tie to slip through their fingers.
"It will be complicated," Guardiola said. "We need to be more focused because they are a good team and otherwise we will go out."
Despite his frustration at the way Arsenal were allowed to resurrect their challenge, Guardiola paid tribute to a first-half performance he rated as the best Barca have produced in his time as head coach.
"It is still a good result away but I think we could have killed the tie and we have wasted that chance," the former Barca midfielder admitted.
"But we are happy to have come here and have pople watch how we can play football.
"Last season we won many prizes but never in the Champions League have we played away from home like we did here in the first 45 minutes.
"We have given a good image of how football should be played and I am proud of my team for that. But only teams who can win get the glory so we need to prepare and focus very well for next week because Arsenal are a very dangerous team."