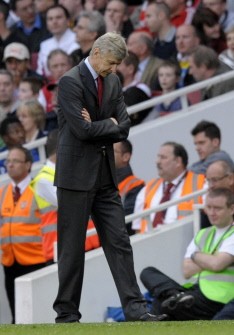 AFP file - Arsene Wenger
LONDON, April 9, 2011 (AFP) - Arsene Wenger launched a stout defence of his Arsenal team's achievements and his managerial policy ahead of their Premier League game against Blackpool on Sunday.
Arsenal have come under criticism this week from the club's influential Supporters Trust following the 0-0 draw against Blackburn, which dimmed their hopes of overtaking Manchester United at the top of the Premier League.
But Wenger claims the dissent is premature, as there is still a chance they could win the league.
And he pointed to the fact that even though they have gone almost six seasons without a trophy, the players they have at their disposal and the sound financial footing should count as success.
"We give our maximum and you have to accept people's opinion," Wenger said.
"Let's hope that in the whole history we will never be more disappointed than that and that, in the next 20 years, they will be exactly as disappointed as they are at the moment.
"If the situation remains like that, it is not too dramatic. People's opinion is people's opinion and we have to accept that in our game.
"As long as you are second in the league, I am ready to sign for the next 20 years and stand up for that.
"You are judged only on your last game. We live in a society where everybody has an opinion and very few people do something.
"We have to act and we want to be judged on our actions. For the rest, our society lives at the moment only on opinion.
"I have grown up by judging people on what they do, not what they say. We want to be judged on Sunday on what we do, that means a good performance."
Two months ago Arsenal were chasing four trophies, but lost the League Cup final to Birmingham, the FA Cup quarter final to Manchester United and the Champions League round of 16 tie to Barcelona.
But Wenger insisted he would still look upon this season as a success, even if they fail to win the Premier League.
"We want to fight until the last game of the season," Wenger said. "The fight of the team is to come out after every game and know we have given as much as we can.
"If there is a team that is better than us we have to accept it. I believe we do not have to be ashamed at the moment of what we have done.
"Rather, I have to be proud because if I took statements from all the people here at the start of the season we were not even in the top five. Now it is a scandal we are second.
"It is time people understand what our job is about. It is important we realise this team is absolutely amazing for what they do at their age. One day people will understand that, but at the moment, I am not sure many people do.
"Now it is a crucial moment where we have to trust these players and not listen to some opinions of people who have not worked half a day in football."
Arsenal captain Cesc Fabregas is fit, but Wenger will be without Alex Song, who has a knee injury. Theo Walcott and Bacary Sagna face fitness tests.
Blackpool manager Ian Holloway, meanwhile, has moved to quell the anticipation for their game against bottom club Wigan on Saturday week.
"I've already heard people going on about Wigan -- it is being made out to be the game that could decide whether we stay up or not. But that's nonsense as it will decide nothing.
"We can lose our next five and win our last two and still stay up because I believe 39 points will be enough to survive. Our season won't depend on what happens against Wigan."