LONDON, Jan 23, 2011 (AFP) - Arsenal manager Arsene Wenger hailed Robin van Persie's hat-trick in the 3-0 win over Wigan, but warned the Dutchman that he cannot risk burnout as the Gunners target a four-trophy sweep.
Van Persie, who also missed a penalty on Saturday, is now back to his best after missing three months at the start of the season with an ankle problem but Wenger insists the striker cannot expect to play every game.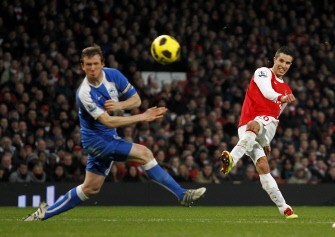 Robin Van Persie shoots past Wigan's Scottish defender Gary Caldwell (L) during the match on January 22, 2011. AFP
"He's back in form," said Wenger. "He was already fit and sharp last week.
"It's important to have him back but we have plenty of offensive players so let's hope we can keep him fit until the end of the season and it's up to us to use him in the right proportion of games we play.
"We rotate, we have no choice. I think we have nine matches in January. That's the most we have ever played. So we need to rotate from game to game. But we have fantastic players on the bench.
"He handles it alright. He is intelligent but of course he wants to play."
Arsenal's win put them two points behind leaders Manchester United, but they have played a game more.
Wenger believes the performance over Wigan justified his decision not to act hastily in the January transfer market.
With Thomas Vermaelen a long-term absentee with an Achilles problem and Sebastien Squillaci out with a hamstring injury, Wenger has admitted he would like to bring in a new centre back.
But he insists he will not pay over the odds and is adamant he will only move if the right player is available.
Wenger has been linked with swoops for Bolton's Gary Cahill and Everton's Phil Jagielka, but after seeing his side keep a fourth successive clean sheet in the league, he is determined there will be no change in approach.
"We look more and more stable defensively," he said. "We were questioned on that front. Maybe the fact I am asked every press conference when I am buying a defender keeps them on their toes. And I will tell them you asked me again.
"If the right opportunity turns up we will take it. We are not desperate. Vermaelen will play a big part to the end of the season and Squillaci could come back next Sunday.
"It's not two weeks to make your mind up, it's two weeks to find the right players. It's not just that you want to buy, it's that you find exactly what you need.
"So trust us and if the opportunity is there we will take it and if it's not we will play with the players we have and we will not use it as an excuse if we don't win trophies."
Wigan manager Roberto Martinez acknowledged his side had no chance in Saturday's after captain Gary Caldwell was sent off in the 70th minute for a foul on Cesc Fabregas that led to a penalty.
Van Persie missed the spot-kick but Martinez believes Fabregas helped influence referee Kevin Friend's decision.
"I think Cesc was very, very clever to get Gary sent off. Gary doesn't try to make a challenge and the contact is minimal," Martinez said.
"He comes from a different culture. If you take a decision from the ref it's because you're clever and you are getting a decision for the team.
"In England to do that it's cheating. In South America, Spain, even Italy, to try to get a decision from the referee is just being clever and to gain advanatge and everyone is allowed to do it. It's down to your culture really.
"That action in Spain gets a well done by everyone. In England you'll get people who are not too happy with it because there's a completely different approach to the game."