LONDON, Aug 7, 2011 (AFP) - Arsene Wenger faces the sternest test of his 15-year reign at Arsenal as he struggles to stop the club's slide into the ranks of the also-rans against a backdrop of star players clamouring for the exit door.
Wenger's team have now gone six years without a trophy after last season's miserable meltdown saw the north Londoners' dream of a quadruple end in abject failure.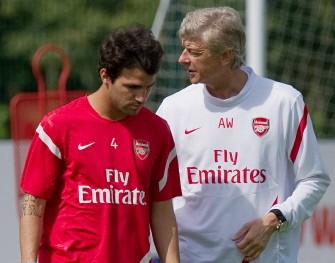 AFP - Arsenal's Spanish player Cesc Fabregas (L) speaks to team manager manager Arsene Wenger during a training session at London Colney on 5 August 2011.
That shocking finale was the final straw for captain Cesc Fabregas, influential winger Samir Nasri -- who have both made it clear they want to leave -- and France defender Gael Clichy, who jumped ship to Manchester City.
Fabregas has missed virtually all of Arsenal's pre-season preparations as a result of his angst over Barcelona's interest and Wenger let his frustrations boil over when he admitted before the Emirates Cup that the Spaniard was "unsettled" and needed to prove his commitment to the Gunners.
Fabregas finally returned to training with just over a week to go before Arsenal's Premier League opener at Newcastle, but he was again left out of Saturday's friendly against Benfica amid suggestions of a new Barca bid.
Wenger wants to keep the star but his problem is that, while Fabregas may protest that only the chance to return home to Catalonia could lure him from Arsenal, the Spaniard's desire to quit is also motivated by a feeling his club are no longer serious contenders for the game's top prizes.
The belief that last season's fourth place finish represents a depressing sign of things to come is clearly shared by Nasri, who would dearly like to join Manchester City if only he could persuade Wenger to sell him.
Unfortunately for Nasri, Wenger is keen to make it a point of principle not to sell Nasri in the same year as Fabregas.
Whether that hard-headed approach can withstand an improved City offer of over £25 million for Nasri, who is in the final year of his contract, remains to be seen.
And, even if Wenger manages to keep one or both of Fabregas and Nasri, he runs the risk of putting his faith in a pair of unhappy players who would rather be elsewhere and alienating others in his squad who do wish to play for the club.
To make matters worse, the fans are also losing faith and the team were booed off after a lacklustre draw against New York Red Bulls in pre-season.
Wenger hasn't helped himself. So far he been unable or unwilling to sign the dominant centre-back and midfield warrior required to add steel to Arsenal's skill.
His stubborn refusal to spend reached farcical heights during the close-season when he offered less for Everton defender Phil Jagielka than he had bid for the same player a year earlier.
Wenger hopes the arrival of Ivory Coast striker Gervinho for £10 million from French champions Lille will add the kind of dynamic presence that was missing in attack last season.
But the only other signing has been Carl Jenkinson, a 19-year-old right-back from Charlton who announced his arrival at the club with a spectacular own goal in a pre-season friendly against Cologne.
Jenkinson's qualities may well prove to be bountiful but it was hard to ignore the symbolism of another member of Wenger's youth movement not quite living up to his billing.
If Arsenal are to get anywhere near their first silverware since the 2005 FA Cup, they need monumental campaigns from England midfielder Jack Wilshere and Dutch forward Robin van Persie, not that Wenger seems unduly worried.
"I am very happy with the way we do things and with the players we develop, with what we try to achieve," Wenger said.
"Unfortunately last year we finished with a bitter taste in our mouths, but we know we were very, very close so we want to come back this year."