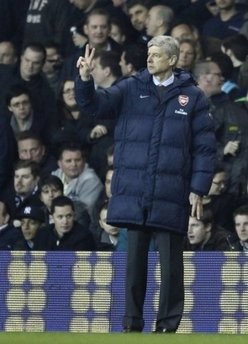 Arsene Wenger is pictured during their Premier League match against Tottenham at White Hart Lane in London, on April 14. AFP photo
WIGAN, England (AFP) – With Arsenal's chances of winning the Premier League now more theoretical than realistic, Arsene Wenger's thoughts have been drawn to next season as well as Sunday's trip to Wigan.
Wenger's side are six points behind leaders Chelsea with just four games to play and the Arsenal manager all but conceded the race is over for his club after Wednesday's 2-1 defeat to Tottenham.
The Frenchman knows he must make several signings if the Gunners are to mount a more convincing challenge to Chelsea and Manchester United next term, while he will also have to fight off any attempts to lure captain Cesc Fabregas away from the Emirates Stadium.
Once again the Spain midfielder has been linked with a return to Barcelona and Wenger is adamant not only that it would not be allowed to happen but that it would be a mistake for the player to want it himself.
"I cannot see anybody who has a competitive edge going to Spain," Wenger said. "They have two good teams, I confess that but the number three team is 24 points behind. This weekend the players planned to go on strike because they are not paid.
"It is a league that is in complete disarray. If you are really competitive, you stay in England. That is where the competition is and that is where the best players want to be. I have so many calls from Spanish players who want to join us and want to come here.
"We want to keep this team together and improve from season to season. I believe we have made a big step forward considering last season and we want to do that again next season."
Wenger must also decide whether to hand a start to Robin van Persie at the DW Stadium after he returned to action on Wednesday for the first time since suffering an ankle injury in November.
The Dutch forward impressed on coming off the bench in the defeat at Tottenham, a result that all but ended the Gunners' title hopes at a time when Thomas Vermaelen, Alex Song and Andrey Arshavin are all out injured.
"If he feels physically all right he will start," Wenger said. "If it is a little gamble we will not take it because he has been out for such a long time."
Wigan are fighting against relegation and were unable to beat an under-strength and already-relegated Portsmouth at home in midweek, having to settle for a 0-0 draw.
The Latics' home form could yet be their salvation however as they have already beaten Chelsea and Liverpool at the DW Stadium and manager Roberto Martinez is hoping for another upset.
"Arsenal are a team who like to enjoy a large percentage of possession and that's something we need to upset," Martinez said.
"They have a clear pattern of play and a style that suits their entire squad, it doesn't matter who plays they all know what system to work to. We need to stop them from doing that.
"As well as that we need to be effective once we have hold of the ball. We've shown before that we can handle playing against such sides, particularly at home, and we're looking forward to it.
"The Liverpool and Chelsea wins prove that we are capable of playing in a manner that can help us get a positive result."
Martinez is again likely to be without Hendry Thomas due to a leg muscle injury, whilst defender Gary Caldwell completes a three-match ban.