LONDON, Aug 22, 2010 (AFP) - Arsene Wenger believes Arsenal are already beginning to benefit from Fabio Capello's decision to omit Theo Walcott from the England World Cup squad.
Walcott bagged a hat-trick as the Gunners crushed Blackpool 6-0 at the Emirates Stadium on Saturday with an Andrey Arshavin penalty and goals from Abou Diaby and Maraouane Chamakh- his first for the club - completing the scoring.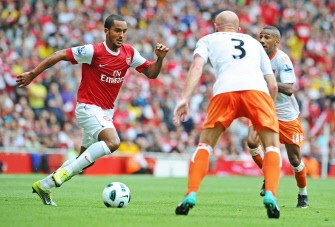 Theo Walcott (L), scorer of three of Arsenal's six goals in action during the English Premier League football match between Arsenal and Blackpool on August 21, 2010. AFP
And Arsenal manager Wenger believes Walcott's impressive finishing and all-round play is further evidence that the 21-year-old is maturing as a player and is determined to put the disappointment of the World Cup snub behind him.
"He is more electric than he has been," said Wenger. "He was sharp. I like the way he mixed the final ball and his finishing.
"That is always a sign a player is more mature. He plays at a very high pace and it isn't easy to make the right decison. But he got many decisions in the final third right."
Having had a complete break since last season, Walcott appears to have shrugged off the injuries that have hindered his development over the previous two campaigns.
"He looks better for the break," Wenger added. "He's had good preparation for the first time in a long, long time.
"Without being interrupted by an injury or coming back late. You can see that. For two or three weeks now he's been sharp because he's had a good preparation."
And Wenger insists Walcott has recovered from the shock of being overlooked by Capello and is now even more determined to prove the Italian wrong.
Wenger said: "He is a guy who keeps his feet on the ground. He takes life in a positive way. The glass is half full, not half empty. So he took that as another challenge. That's what's amazing about Theo.
"He is 21, he is now at an age when players normally start. He is not at the peak of his game. He has to keep his attitude right. And he has to avoid injury."
With Cesc Fabregas also making his first appearance since committing his future to the club, Wenger had much to be pleased about after such a comfortable win.
Wenger is also confident of making one more signing before the transfer window closes.
Fulham goalkeeper Mark Schwarzer remains his number one target although the Cottagers reacted angrily last week after receiving a second offer for the player from Arsenal that Fulham claimed simply mirrored the two million pounds bid rejected in May.
Wenger said: "I'm confident we will have at least one. Maybe one plus one. The market is quiet but I know it gets crazy in the last five days and on the final day it gets completely mad.
And referring to the Schwarzer bid, he added: "We have to be as quiet as possible. You cannot force any club to sell a player.
"If they don't want to sell, they can say know. If we make an offer for a player, the club says yes or no. If the club says no, then that's it."
Blackpool manager Ian Holloway was frustrated that his side's hopes of springing a surprise were effectively ended when Ian Evatt was dismissed for tripping Chamakh to concede the penalty that allowed Arshavin to make it 2-0.
"I wish it was more like in my day when the referees had more discretion," he said.
"There's a question whether it was in the penalty area and whether my player played the ball, I think a yellow card would have been fairer and would have given the paying public more of a spectacle.
"Everything about Arsenal is class and this was a masterclass. The ball hardly left the grass and I would be delighted if my teams one day played like that.
"We have plenty to do on Monday morning and I think we could have a few Monday mornings like it. I'm relieved it wasn't 10 or 12."