LONDON, April 4, 2010 (AFP) - Arsenal manager Arsene Wenger has stepped up his war of words with France coach Raymond Domenech over the treatment of defender William Gallas.
Wenger was furious at Domenech's criticism of the decision to play Gallas in last week's Champions League quarter-final clash with Barcelona.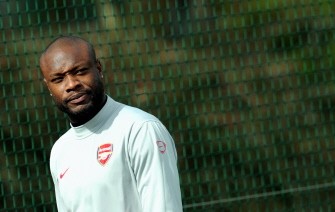 William Gallas (AFP file)
The defender aggravated a calf injury that has ruled him out for the rest of Arsenal's season and made him unsure of featuring for his country in the World Cup in South Africa.
The Gunners maintained their Premier League title challenge without the France international when Nicklas Bendtner's added time header secured a 1-0 victory over ten-man Wolves on Saturday to leave Wenger's side three points behind leaders Chelsea with five games remaining.
But Wenger focused on Domenech's comments and said: "It is now a situation where a club cannot decide when it plays its' players. They have the right to pay the players, but not when to play them.
"I don't disagree that I took a gamble on Gallas. But the player declares himself fit, the medical staff declared him fit, the rehabilitation centre declared him fit, but I still cannot play him because maybe France needs him in the World Cup. During which we pay him as well.
"You have to leave some freedom to the club to decide when they play their players.
"I want the players to do well for the national team as well but the national teams have to accept as well that we lose the players like Robin van Persie for the whole season. And for what? To play in Italy in Bari for a friendly when the stadium is half empty. And we lose him for the whole season.
"We pay him the whole season. They decided to play him. So when we play at home against Barcelona in the quarter-final of the Champions League, we are still ostracised because we play a player who declares himself fit. That's a bit too much."
Wenger admitted his side's title hopes would have gone had they not claimed victory over Wolves and they can now head to Spain for the second leg with Barcelona, where they are level 2-2, on Tuesday in good spirits.
"It keeps us in the title race," he added. "First it was important to forget Barcelona for 24 hours and focus on Wolves and that was not easy. But we did it well - I think we had a good focus.
"We were a bit jaded physically but we kept going and we didn't make a mistake at the back. In the end we got a deserved victory against a resilient Wolves team."
It was the third time in the last six league games Arsenal have scored a last minute winner and Wenger said: "I put that down to our mental tenacity, our unity and the focus of the players who come on. Everybody works in the same direction.
"And we take advantage of our technical superiority in the final part of the game, most of the time."
Wolves manager Mick McCarthy was furious at the decision to send captain Karl Henry off for a challenge on Tomas Rosicky.
Wolves remain in a relegation fight and McCarthy said: "I think it was a bad decision.
"It didn't help did it? We were doing all the tackling that we had to before we went down to ten men. But when you go down to ten men it makes life pretty difficult.
"We were not kicking the Arsenal players, that's for sure. But there were quite a few players around the referee helping him make his decision. And the linesman for some bizarre reason, who'd come in for 50 yards.
"I've no idea if we'll survive. If we get one point more than three others then we'll be fine."