LONDON, Aug 14, 2010 (AFP) - Arsenal manager Arsene Wenger has signed a contract extension which will see him stay with the London club until at least June 2014.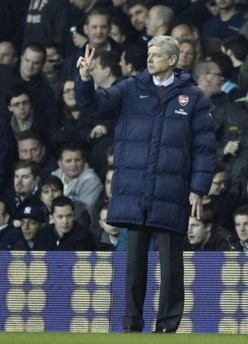 (AFP file) Arsene Wenger
The 60-year-old Frenchman joined the Gunners in 1996 and has led them to three Premier League titles and two FA Cup wins. He is the longest-serving manager in the club's history.
"My heart belongs to Arsenal and my desire is to see this team win silverware. My commitment and drive are as strong and fresh as ever," Wenger said.
"Signing a new deal means that I can see this talented group of players reach their potential. Trust me, they are ready to deliver."
Wenger had been due to be out of contract at the end of this season and it had been suggested he could leave Arsenal if the team endured a sixth successive year without a trophy.
The new deal though indicates that Wenger intends to see out his career at the Emirates.
He told last week's Observer: "I am at the stage where if I extend my contract, it means I will finish my career at club level at Arsenal. If I go for a different challenge - I have been offered many challenges you know - it has to be now.
"That's a decision I have to make. But basically, I have no desire to change from here. I have one more year, and we are maybe thinking about extending it."
Having managed Monaco and Nancy in his native France and Nagoya Grampus in Japan, Wenger was a surprise choice when he was appointed in 1996, but he quickly won the fans over.
He led the club to third place in his first season, before guiding them to a league and cup double the following year.
Wenger's side claimed a second double in the 2001/2 campaign, and two seasons later he led his team to a third league title without losing a game.
The Gunners have not won a title since 2005, though.
"I feel that we have not won for a few years now and it's important to get back to winning trophies because we have gone for a certain policy," Wenger told www.arsenal.com.
"We maintained the club at the top level, but we want to get to the next step, to win trophies and to win the title and the Champions League of course.
"I believe there are decisive years in front of us, but as well, very exciting years in front of us because the team has matured a lot, there is a lot of potential and that is what I want to show, that we have made the right decisions and that we can win."
Arsenal chairman Peter Hill-Wood commented: "We are thrilled that Arsene has signed an extension to his contract.
"He has masterfully transformed this football club over the last 14 years and the exciting and compelling football we play under his stewardship is admired the world over.
"Arsene is a very talented man and we believe the young, exciting team he has nurtured over the past five years will reward his and the fans' patience with silverware."