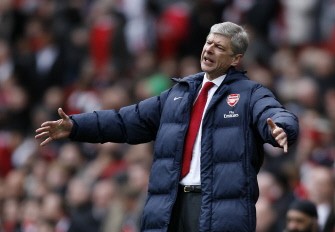 Wenger gstures during the English Premier League football match between Arsenal and Wolverhampton Wanderers in London, England on April 3, 2010. AFP PHOTO
LONDON, April 4, 2010 (AFP) - Coach Arsene Wenger will discuss a new contract with Arsenal in the summer or autumn, media reports indicated Sunday.
Wenger's current deal expires in the summer of next year but he wants to see his young side, still in the mix for the Premier League title and taking on Barcelona this week in their Champions League quarter-final return, mature to land silverware.
Wenger told the Mail On Sunday: "This summer or in the autumn we will talk. My personal future will depend on the capacity to win trophies but also on whether this team is improving year after year, because we are still very, very young.
"Ideally I would not want to leave without this generation winning a trophy."