LONDON, March 18, 2011 (AFP) - Arsene Wenger believes Arsenal can put a disastrous two-week spell behind them and revive their campaign at West Bromwich Albion on Saturday.
Wenger's side suffered a painfully familiar defeat in the FA Cup quarter-final at Manchester United, 13 days after they had been beaten by Birmingham City in the League Cup final.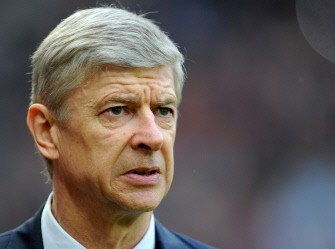 Arsenal's manager Arsene Wenger looks on before the FA Cup quarter-final against Manchester United on March 12, 2011. AFP
Sandwiched in between was the Champions League exit at the hands of Barcelona, leaving the Premier League title as the Gunners' one remaining chance of glory this season.
Confirmation that Johan Djourou will be out for at least six weeks with a shoulder problem and that Thomas Vermaelen will definitely miss the remainder of the campaign has hardly helped lift the mood at the Emirates Stadium.
Wenger, though, remains confident his side can push leaders United all the way in the title race and points out that they face Albion at the Hawthorns on the back of an unbeaten eleven-game run in the league.
The Gunners go into the latest round of matches three points behind Sir Alex Ferguson's side, having played a game less.
"We have a good opportunity to keep our run going," Wenger said. "We are a on a long strong run in the championship and that's what we want to keep on doing.
"For me we have a good opportunity to win the championship. If we don't do it, it will be Manchester United who win it.
"Chelsea can win it if they beat Manchester United and we both lose more games. But mathematically it is in our hands or Manchester United's hands."
Wenger is convinced the recent disappointments are a blip and should not detract from his side's performances this season.
"In fairness we have not had many off days and if I look at what the team has done over the last three months, people forget the level of performance we have put in.
"We have been consistent in the league. We have gone out in the Champions League in unusual circumstances and that affected our performance at Manchester United.
"We need to keep our belief and togetherness until the end of the season."
Wenger has confirmed Jens Lehmann, 41, will rejoin the club on a short term deal after the club was given permission to recruit emergency goalkeeping cover following the injuries to Lukasz Fabianski, Wojciech Szczesny and Vito Mannone.
West Brom manager Roy Hodgson, meanwhile, is preparing his side for The the first of three successive Hawthorns fixtures against established Premier League powers.
Liverpool and Chelsea are the next two visitors as Albion enter a crucial period of their fight against relegation. But Hodgson has insisted he will treat the games the same as any other Premier League fixtures.
"I don't approach it any differently but maybe some people do," said Hodgson.
"I think to win those games we've got to play well and obviously the better the team you play the more difficult the task is and the more questions they are going to ask of you.
"But generally speaking we've got to be ready to ask all questions at all times against all opponents, and if we are fortunate to play against an opponent who doesn't ask us too many questions we will be grateful.
"But we know in the next three games we've got three potential defeats on the cards because we're playing teams with a much higher ranking and much better off in the league than we are.
"So we've got to be prepared to fight, battle and play as well as we can to get as many points as we can. And we've got to believe in ourselves.
"There is pressure on Arsenal as well, because albeit they are currently in a much better position than us, when that match starts on Saturday it starts at 0-0 and it's 11 against 11 and we've got to believe in ourselves."
The Baggies are today checking on the fitness of Youssouf Mulumbu, who has been struggling with a hamstring problem since scoring in the 3-1 win at Birmingham.