LONDON, Nov 9, 2010 (AFP) - Arsenal manager Arsene Wenger has demanded an immediate response to the shock defeat against Newcastle when his team travel to Wolves on Wednesday
Wenger's side have lost twice at home this season already and the Frenchman admits they need a victory at Molineux to lift morale after a 1-0 loss to Newcastle left the Gunners third in the Premier League table.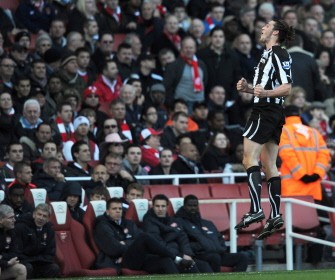 Newcastle United's forward Andy Carroll (R) jumps to celebrate scoring the opening goal in front of the Arsenal Manager Arsene Wenger (2nd L) during the Premiership football match at the Emirates Stadium in London on November 7, 2010. AFP
"We have to pick ourselves up," Wenger said. "We are ambitious, and that is why we have to get our spirit on this (Wolves) game, focus again and come back with points.
"I concede it was not one of our better days against Newcastle, but it was also very harsh to lose the game as well because they had one shot on target and we had a few chances," the Frenchman added.
"It was down to who made the first mistake. We got caught on a set-piece and that is where we were guilty."
The blow of losing to Newcastle was softened slightly by Chelsea's defeat by Liverpool, meaning Arsenal remained five points behind the league leaders.
Arsenal's Theo Walcott is pleased the next round of matches has come around so soon, giving the Gunners a chance to bounce back quickly.
"Football is a great game, you have ups and downs, with clubs like us slipping up," said the England winger.
"However, there are plenty of teams in it still, but we are not going to look too far ahead.
"We just want to concentrate on every single game, and take a step when we can," he added.
"It is in the past now, we lost, but the great thing about football is there is another game around the corner, we have got a game on Wednesday and we can amend the disappointment we had."
Wolves are coming to terms with a defeat as well, after getting beaten at Manchester United on Saturday following a late goal from Park Ji-Sung.
"It's important how we react to it now," said Wolves defender Kevin Foley of a defeat sealed by South Korea international Park's goal. "It was a devastating result but there are positives to take from the performance.
"We've got to carry that into the Arsenal game -- another big team -- and you never know what can happen.
"We've just got to recover and get ready for Wednesday's game," Foley insisted. "Arsenal are another big team but we beat Manchester City and went close again at United.
"We did ourselves proud and I'm sure we'll do the same again on Wednesday."
Wolves almost got a draw at Arsenal last season but were sunk by a late goal, just like they were at Old Trafford and manager Mick McCarthy could not hide his disappointment after the result at the weekend.
"It just knocks the stuffing out of us at the end and saps the belief we have," he said.
"We kept Arsenal out for 93 minutes at the Emirates last season, but still ended up getting beat and that's my over-riding feeling."