LONDON, Jan 4, 2011 (AFP) - Arsene Wenger believes his Arsenal side can prove once and for all they are up for the fight in the English Premier League title race by beating new pretenders Manchester City.
Wenger, the Gunners manager, said after the victory over an out-of-form Chelsea over Christmas that his side have toughened up and are in the running to end their five-season wait for a trophy.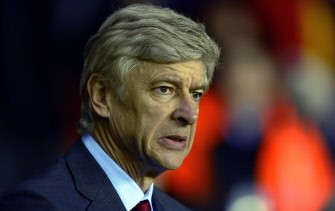 Arsene Wenger (AFP)
And a win over second-placed City will not only lift Arsenal above Roberto Mancini's men in the Premier League table, but, according to Wenger, show that his claims have substance.
Wenger, who had a mixed festive period with wins over Birmingham and Chelsea and a draw at Wigan, said: "After the Chelsea game the team was on a high because we got that burden out of the way.
"But after we were quickly down again because we dropped two points against Wigan. But I am pleased we were quickly back up again.
"This team could see the positive effect of the Chelsea win. It was there for all to see on Saturday (against Birmingham).
"You can see we have the belief in our game now. That is what will make the title race really interesting," the Frenchman added.
"We started the season with more personality and authority. We panic less."
Wenger added he has not seen a title race like it, with the Gunners, Manchester United, Manchester City, Chelsea and Tottenham all in the running midway through the season.
"I cannot remember a title race with five teams in it. Last week (United manager) Alex Ferguson said there were three, now there are five.
"I said there could be five from the start."
Arsenal may have made eight changes between Chelsea and Wigan, but Wenger is unlikely to play a largely different side to the one that beat Birmingham.
Abou Diaby remains out with a calf strain while defender Thomas Vermaelen is still sidelined with a longstanding Achilles problem.
A trip to Arsenal has frequently ended in disappointment for City, who have not won on the Gunners' home patch for over 30 years.
Mancini's side will travel south with more confidence on this occasion however, after the holiday programme yielded maximum points from three games.
The recent winning run means only goal difference separates them from leaders Manchester United, although they have played two games more than their near neighbours.
And having recovered well from the disappointment of losing at home to Everton in mid-December, there is a growing confidence at Eastlands that Mancini's side are capable of going all the way in the title race.
Jerome Boateng, the defender signed for around 10 million pounds (15.50 million dollars) from Hamburg as part of Mancini's pre-season recruitment drive, believes there is no reason why City should fear the trip to the Emirates Stadium, despite suffering a 3-0 home defeat against Arsenal in October when Dedryck Boyata was sent-off.
"Arsenal's players have played many years together at their club and you can see that on the pitch in the way they move for one another," Boateng told City's official website, www.mcfc.co.uk.
"It is a difficult game for us but it will be difficult for them too.
"When we played them at home earlier in the season I don't think we were any worse than them and had only ten men for most of the game. Now we want to play them with eleven.
"I don't believe in bogey teams or jinxes. That City has not won in Arsenal for a long time makes no difference to what might happen on Wednesday.
"We must just work hard together to make sure we continue our winning run, It is true we have played better away from home sometimes. I don't know why."
City's chances will be enhanced if Emmanuel Adebayor, Mario Balotelli and David Silva recover from injury.