LONDON, March 10, 2011 (AFP) - Harry Redknapp admits Tottenham are in Champions League dreamland after his side reached the quarter-finals with a tense 1-0 aggregate win over AC Milan.
Redknapp's team survived a barrage of pressure from Milan at White Hart Lane on Wednesday to secure a 0-0 draw in the last 16 second leg clash and that was enough to eliminate the Italian league leaders thanks to Peter Crouch's first leg goal in the San Siro.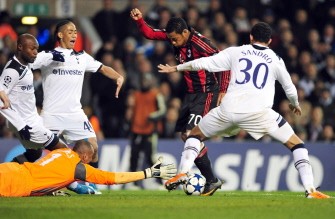 AC Milan's Robinho (2R) fights for the ball with Tottenham's Sandro (R) at White Hart Lane Stadium in London on March 9, 2011. AFP
When Redknapp arrived at White Hart Lane, he took over a team in the Premier League relegation zone, but now they are within two rounds of reaching the final of Europe's elite club competition at Wembley.
After years spent in the long shadow cast by local rivals Arsenal, it is now Tottenham's turn to bask in the spotlight and, with the Gunners forced to watch the rest of the competition on television after their exit against Barcelona, Redknapp wants his fans to savour every moment of their fairytale run.
"I don't know how far we can go but we've done very well so far," Redknapp said. "If we had said two years ago we would be in the last eight of the Champions League you would have said we were crazy.
"The fans are living a dream now I would have thought. What we have achieved so far was an impossible dream.
"The fans wouldn't have seen this coming two years ago. It's the first time in the Champions League in the club's history. To do that and then win the group - one of the toughest groups - and then beat AC Milan, they've got to enjoy it and see what comes.
"I'm just looking forward to getting home so I can have a bacon sandwich and a cup of tea and take the dogs for a walk.
"I try not to get too carried away when it goes well and not too down when things go wrong.
"We are not going out to celebrate. The players will be in for a warm-down in the morning. It's about the fans and giving them something to be proud of."
For long periods on Wednesday it looked as though nerves would get the better of Spurs as Milan probed for the goal that would get them back into the tie.
It took a superb goal-line clearance from William Gallas to deny a deflected shot from Robinho, while Heurelho Gomes saved from Alexandre Pato and Robinho.
For once Spurs were unable to employ the cavalier approach that has impressed in Europe this season but Redknapp, who reserved special praise for Gallas, Michael Dawson and Sandro, insisted his team deserved credit for holding their nerve under such intense pressure.
"It was always going to be a nervy night. If people think you are going to come here and smash AC Milan out of sight they have not been watching football over the years," Redknapp said.
"They are top of the league and have lost three games all season. We are not playing a rubbish team here.
"Sandro was immense in midfield for a young lad with limited experience and the centre-backs defended for their lives."
Redknapp believes Spurs are capable of extending their run into the semi-finals, providing they can avoid Barcelona in the last eight draw.
"Barcelona are the one team you don't want to play in the last eight," he said. "Arsenal pass the ball really well and are a great team but they were almost out of their depth on Tuesday.
"I thought it was an amazing performance against the best passing team in the Premier League. To make them look so ordinary and stop them having a shot was amazing.
"Anyone beating them will have done very well. Who knows if we could, we've done well to get this far and we want to stay in the competition.
Milan coach Massimiliano Allegri felt his side had done enough to go through over the two legs and he said: "We played a very good game and the players did everything we could expect but we couldn't score and that is why we went out.
"It leaves a bitter taste at the moment but the performance is very encouraging for the rest of the season."