PARIS, May 30, 2011 (AFP) - Barcelona's magnificent 3-1 win over Manchester United in the Champions League final at Wembley on Saturday prompted claims that they are the greatest European club side in history.
The intricate passing game of Xavi, Andres Iniesta and reigning FIFA Ballon d'Or Lionel Messi has beguiled fans from all over the world, while coach Pep Guardiola has now won 10 major trophies since being appointed in 2008.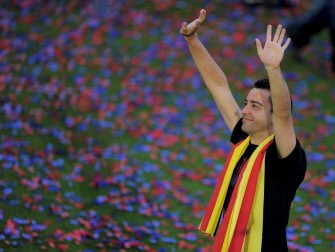 AFP - Barcelona's Xavi Hernandez waves during a celebration with supporters at the Camp Nou stadium in Barcelona on May 29, 2011 a day after the team won the UEFA Champions League
AFP Sports look at some of Barcelona's rivals for the title of Europe's greatest ever team.

REAL MADRID (ESP) 1955-1960
- The first truly great European club side, Real Madrid won the first five editions of the European Cup to establish themselves as the most glamorous team on the continent. Prolific Argentine striker Alfredo di Stefano and Hungarian playmaker Ferenc Puskas were the stars, scoring all seven goals -- three for Di Stefano, four for Puskas -- in the 7-3 thrashing of Eintracht Frankfurt at Hampden Park in the 1959-60 European Cup final.
Star men: Alfredo di Stefano (ARG), Ferenc Puskas (HUN), Francisco Gento (ESP)
Coaches: Jose Villalonga (ESP), Luis Carniglia (ARG), Miguel Munoz (ESP), Manuel Fleitas (PAR)
Trophies: European Cup/Champions League 1955-56, 1956-57, 1957-58, 1958-59, 1959-60, Intercontinental Cup 1960, La Liga 1956-57, 1957-58

AJAX (NED) 1970-1973
- The first team since Real to win three consecutive European Cups, in 1972 Ajax also became the first team since Celtic in 1967 to win a treble of the European Cup, their domestic league championship and their principal domestic cup competition. Coach Rinus Michels' revolutionary 'Total Football' tactical approach -- which saw players freely exchanging positions on the pitch -- was the basis for the success enjoyed by the great Ajax-dominated Dutch national team of the mid-1970s.
Star men: Johan Cruyff (NED), Ruud Krol (NED), Johan Neeskens (NED)
Coaches: Rinus Michels (NED), Stefan Kovacs (ROM)
Trophies: European Cup/Champions League 1970-71, 1971-72, 1972-73, Intercontinental Cup 1972, UEFA Super Cup 1973, Eredivisie 1971-72, 1972-73, Dutch Cup 1970-71, 1971-72

LIVERPOOL (ENG) 1974-1985
- After Bill Shankly took Liverpool from the foot of the Second Division to the pinnacle of the English game, his successor Bob Paisley went one stop further by guiding the Reds to European Cup glory on three occasions. An organic recruitment strategy saw Paisley replaced by another member of Shankly's famous Boot Room, Joe Fagan, who led the club to a fourth European Cup success, at the expense of Roma, in 1984.
Star men: Kenny Dalglish (SCO), Kevin Keegan (ENG), Ian Rush (WAL)
Coaches: Bob Paisley (ENG), Joe Fagan (ENG)
Trophies: European Cup/Champions League 1976-77, 1977-78, 1980-81, 1983-84, UEFA Cup 1975-76, UEFA Super Cup 1977, English First Division 1975-76, 1976-77, 1978-79, 1979-80, 1981-82, 1982-83, 1983-84, English League Cup 1980-81, 1981-82, 1982-83, 1983-84

AC MILAN (ITA) 1987-1994
- Under coach Arrigo Sacchi, who never played football professionally, Milan developed a game founded upon the ultra-attacking principles espoused by Rinus Michels, with aggressive pressing of opposition players and a high defensive line key features. Dutch trio Marco van Basten, Ruud Gullit and Frank Rijkaard were the core of a team that won back-to-back European Cups in 1989 and 1990 before thrashing Johan Cruyff's Barcelona 4-0 in the 1993-94 final under the guidance of Sacchi's successor, Fabio Capello.
Star men: Marco van Basten (NED), Ruud Gullit (NED), Franco Baresi (ITA)
Coaches: Arrigo Sacchi (ITA), Fabio Capello (ITA)
Trophies: European Cup/Champions League 1988-89, 1989-90, 1993-94, Intercontinental Cup 1989, 1990, UEFA Super Cup 1989, 1990, 1994, Serie A 1987-88, 1991-92, 1992-93, 1993-94

BARCELONA (ESP) 2004-2011
- Pep Guardiola's appointment as Barcelona coach in 2008 saw the project of slick, possession-based football that had begun under his predecessor Frank Rijkaard develop into something approaching an art-form. With Spanish World Cup winners Xavi and Andres Iniesta supplying the bullets for Argentine maestro Lionel Messi, Barca secured their place in the pantheon of Europe's great sides with one-sided defeats of Manchester United in the finals of the 2008-09 and 2010-11 Champions Leagues.
Star men: Lionel Messi (ARG), Xavi (ESP), Andres Iniesta (ESP)
Coach: Frank Rijkaard (NED), Pep Guardiola (ESP)
Trophies: European Cup/Champions League 2005-06, 2008-09, 2010-11, FIFA Club World Cup 2009, UEFA Super Cup 2009, La Liga 2004-05, 2005-06, 2008-09, 2009-10, 2010-11, Spanish Cup 2008-09