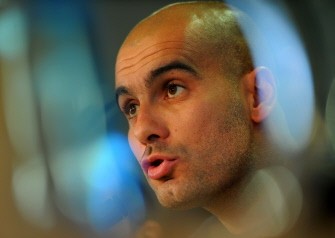 Barcelona's coach Pep Guardiola gives a press conference at the Sports Center FC Barcelona Joan Gamper in Barcelona, on April 19, 2011, on the eve of the Spanish Cup final match against Real Madrid. AFP
MADRID, April 19, 2011 (AFP) - Real Madrid goalkeeper Iker Casillas says winning the King's Cup final on Wednesday against arch rivals Barcelona is "vital" to the club.
The two sides will face off at Valencia's Mestalla stadium in the second of their four clashes in just over two weeks, with Real's Portuguese coach Jose Mourinho aiming to win his first trophy with the club.
"It is a very important trophy for Real Madrid and we cannot afford to not win it for 17 years. It will be even more important if we do win it. It is vital," Casillas said in an interview published on the club's website.
"I have not won it in the 11 years I have been here. It will be a great match between the two best teams in Spain. Anything can happen, but we are excited about our chances. We hope we can win the cup.
"The coach is a winner and he has placed importance on the cup from day one. Mourinho believes every match is important and he has made sure that we focus only on this match," the Real captain added.
Ten-man Real held Barcelona to a 1-1 draw on Saturday in the league.
Casillas said the result helped boost team morale even though it left Barcelona eight points ahead and well-placed to clinch their second straight league title.
"That match was a turning point for us and it helped boost our morale. Whatever the case may be, it can all be summed up by the fact that the ball may go in and that we score more goals than them," he said.
The two sides will also face off twice in the Champions League semi-finals, with the first leg at Madrid's Bernabeu on April 27 and the return leg on May 3 at Camp Nou.