Viet Nam lost 2-0 in their first-leg qualifier against Japan at Tokyo as part of the Group B Beijing Olympic qualifiers on April 7. The visitors played a great defensive match but unfortunately Japan, the Asian Games silver medalists, were too strong.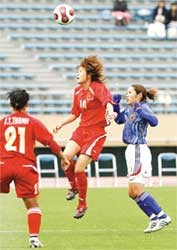 Viet Nam plays defensively with only one forward Bui Thi Tuyet Mai (red in the middle)
Starting with a 4-5-1 formation, Viet Nam's team coach Ngo The Bang wanted his women to play defensively with a counter-attack. The defense, including Minh Nguyet, Thuy Linh, Dao Thi Mien and Ngoc Anh, showed great resolve in keeping the home team's attacks at bay.
Japan, with many skillful players, dominated during the first half but had to work hard for the opening goal by Homare Sawaon in the 36th minute.
Japan kept the pressure on the visitors throughout the second half of the match, creating many chances but couldn't seem to break through Viet Nam's steady defense.

However, Japan's victory was cemented when Sawa cut back a free kick from substitute defender Yukari Kinga, setting up the goal for Tomoe Sakai in the 73rd minute.
"Losing 2-0 in Tokyo is acceptable as Japan is the better side. I'm happy that my team's defense improved; the 4 women proved to be effective in stopping top strikers from a strong team like Japan" Vietnamese coach Ngo The Bang said after the match.
Viet Nam will play at home against Korea in their next game on April 15.