LOS ANGELES (AFP) – A world golf rankings list without Tiger Woods atop it is an unfamiliar sight, but 2010 has been nothing if not "different" for the player who remains the game's undisputed superstar.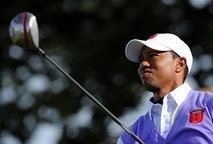 AFP file - Tiger Woods pictured on October 2, 2010
The ascent of England's Lee Westwood to the world number one ranking as of Monday sees Woods' 281-week tenure at the top end.
The moment offered little drama, with both Westwood and Woods idle last week. And the American's No. 1 spot had already been under threat for much of the season.
"It has been a different year," Woods noted in September, as he reflected on a 2010 that started amid scandal over his extra-marital affairs and has left him -- so far -- in search of even one title.
Woods, 34, has only two top-five finishes in 12 PGA Tour events. His pursuit of Jack Nicklaus' record of 18 major titles has stalled at 14 -- his last coming at the 2008 US Open.
Until this year -- when Masters champion Phil Mickelson has challenged steadily, if unsuccessfully -- for the top spot since May, Woods had faced only one potential dethroning in two years.
Spain's Sergio Garcia had been in position to overtake Woods with a victory at Doral in 2009 largely because of Woods' lengthy injury layoff in the wake of his 2008 US Open victory.
Woods first assumed the number one ranking in 1998. Until this week he had been unseated only twice, by Vijay Singh and David Duval.
And Woods will no doubt do all in his power to insure Westwood's reign is short.
The two face off at the HSBC Champions in Shanghai this week, and Woods has made it clear that with three tournaments remaining on his schedule he still has hopes of putting at least one victory, if not more, on his slate for 2010.
"I like where my game is headed," Woods said this month as he promoted his Chevron World Challenge tournament in December. "I like the pieces of it and how they're falling into place.
"In particular at the Ryder Cup, and especially in the singles how I played, and that's the way I know I can play the game of golf."
Woods was 2-down early to Francesco Molinari in their Ryder Cup singles match but rallied to post his biggest ever Ryder Cup win.
Woods finished with seven birdies and an Eagle to win the match on the 15th hole.
For Woods, it was further proof that the swing changes he has been working on with Sean Foley are coming together.
"I don't have it all dialed in yet. But I figured if I could play the way I did in the singles match, which I hadn't done that all year, that's a positive sign," Woods said.
Woods has acknowledged that the personal turmoil of the year - which saw his marriage end in August and is reckoned to have cost him tens of millions in endorsement earnings - has been mirrored by his frustrations on the course.
"All in all it was a long, frustrating year, but in the end it turned out that everything's headed in a positive direction now," he said.