MADRID, May 29, 2011 (AFP) - The world's press bowed Sunday before Barcelona's sublime 3-1 Champions Cup triumph over Manchester United and asked the question: Is this one of the greatest teams in history, and is Lionel Messi one of the greatest players?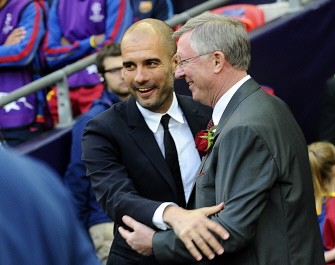 AFP - Barcelona's Spanish coach Josep Guardiola (L) embraces Manchester United manager Alex Ferguson during the UEFA Champions League final
In Spain, there was little doubt of the answer.
"Barcelona touched the heavens," headlined the daily El Pais.
"The best there is," blared the local El Periodico de Catalunya. "The best team in the world," boasted sports daily Mundo Deportivo. "Super Barca. Spanish football still top of the world," said sports paper AS.
Lionel Messi's carving up of the English side left pundits scrambling for comparisons to sum up the performance.
"They floated like butterflies and stung like bees. Led by the unstoppable Leo Messi, Barcelona left Manchester United battered. Bruised. Broken," said British tabloid The Sun.
Manchester gave it their all, the paper said. "But the Red Devils were subjected to a footballing masterclass. Relentlessly torn apart. Relentlessly executed."
The New York Times said the victory fuelled a debate about whether Barcelona was the one of the best teams in football history, quoting Manchester United manager Alex Ferguson's reply: "In my time as manager, yes."
The Daily Mail piled on the praise.
"In the entire history of this beautiful game, few teams have ever approached the state of perfection which FC Barcelona enjoyed in this European final," the Daily Mail said.
"In recent years they had promised to deliver the ultimate performance, the one which would lift them beyond compare. That performance was delivered."
Messi himself came in for the most lavish adoration.
"How can they fail with the enchanting genius Lionel Messi at their heart?" asked the Daily Mail.
The enduring image of the final, it said, would be a smiling Messi stumbling down a flight of steps with the Cup balanced on his head.
"Messi's mischief was done, his place in the pantheon secure. And if Barcelona only had Messi to offer, then they would be lavishly equipped."
London's Daily Telegraph said Messi's "dalliance with the ball was pure, breathless tango with United cast in the role of wallflowers."
"This was the sort of spellbinding performance from Barcelona, and particularly their wonderful Argentine magician, that makes even cynics fall back in love with football," the Daily Telegraph said. "Pass and move, move and score. Bewitching."
Britain's The Guardian said Messi had given the most effective performance by a deep-lying centre-forward since Nando Hidegkuti scored a hat-trick in Hungary's 6-3 defeat of England at Wembley in 1953.
Barcelona had made Manchester's game look rudimentary, the paper said. "A triumph for artistry, patience, imagination. And not a hint of gamesmanship. Magnificent, actually."