The qualifiers for the Asian Cup begins January 14 but both fans and the Portuguese coach, Henrique Calisto, are worried about the spirit and strength of the players, as preparations have been hampered by off-the-pitch problems.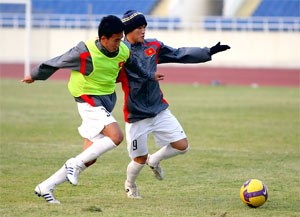 Vietnamese players in a training session (Photo: SGGP)
Despite promises from the sponsors and local businesses to reward the team for their AFF Cup success with more than VND10 billion ($585,000), the VFF announced Saturday that they have only received about VND9.2 billion ($538,000). After deductions, the reward has dropped to $351,000.  
That means a player in class A will see their reward money drop down from VND600 million ($35,000) to VND200 million (US$11,600). Classes B and C have also seen similar drops.  
The lower than expected bonus has affected the attitude of players, who feel let down by the sponsors and the VFF.  
Fitness is also causing a head-ache for Coach Calisto. The left-winger, Le Tan Tai, has damaged his ankle and had to miss Saturday's training session. Bad news continued with the right-winger, Nguyen Vu Phong, also hurting his leg after Sunday's training session.  
The chances of both players recovering before the opening match against Lebanon are slim. Two replacements, Thanh Luong and Minh Phuong, will cover the positions but Calisto is not totally satisfied with their abilities. This has affected an attacking strategy focused along the wings. 
The situation has gone from bad to worse as main players, Tai Em, Minh Chau, Phuoc Tu and Bao Khanh have also suffered slight injuries. 
To cap the problems, the weather has not helped. With cold temperatures from 7 to 10 degrees Celsius during Sunday's training, some players have shown signs of flu.  
Coach Calisto had worries before the training session, these have only worsened. 
The team trained this morning in temperatures around seven degrees.        
The opening Asian Cup qualifier will see Vietnam play Lebanon January 14 at My Dinh National Stadium, Ha Noi.