Vietnam's thirst for winning gold medal in the fifth day of the Asian Game yesterday was failed after wushu martial artists just sailed to three silvers.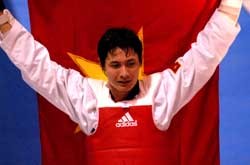 Taekwondo artist Nguyen Trong Cuong wins a bronze medal in the men's 87kg weight category at the ASIAD on November 17.
Nguyen Thi Bich, the 2008 world champion, took a silver medal after losing to Chinese E Meidie in the final sanshou (combat) event of the women's 52kg weight category at Nansha Gymnasium.
Earlier on the same day, her teammate Phan Van Hau failed to overpower host Li Xinjie in the men's 56kg class final while Nguyen Van Tuan was defeated by Chinese Zhang Junyong in the men's 65kg final, forcing both to settle for silver.
The wushu is over, but Vietnam wushu team did not get any gold medal and failed to meet target in the ASIAD.
In Taekwondo, Vietnamese athletes brought home three bronze medals on the same day.
Duong Thanh Tam and Nguyen Trong Cuong battled to bronze in the men's 74kg and 87kg weight categories, while Vu Thi Hau added one more to the women's team in the 49kg class.
In badminton, Nguyen Tien Minh waltzed over Parupalli Kashyap from India 21-14, 21-20 in the men's singles round of 32. He will meet his rival Thai Saensomboonsuk.
China is on the way to break their record 165 gold medals in the 15th ASIAD.
China is in the lead with 105 gold medals, followed by the Korea with 29 gold medals and Japan with 17 gold medals.
Vietnam has bagged seven silver medals and ten bronze medals, helping the country maintain its 14th place in the 16th ASIAD.
Related articles: