Fans' spirits were buoyed by the recent success of Vietnam's U-19 team in knocking out Singapore in the semi-final of Thanh Nien Newspaper's Under 21 International Football Championship on October 16. It may have been the last high note, however, after a follow-up loss to China's U-21.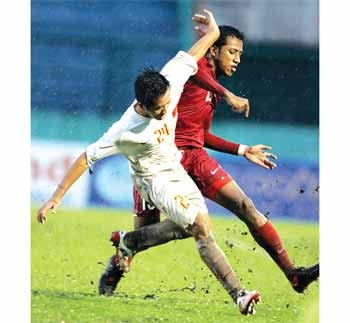 Minh Tuan (front) from Vietnam's U-19 goes head-to-head with a Singaporean defender on October 16 (Photo: SGGP)
Taking on Singapore was a monumental challenge for the young Vietnamese footballers who have much less experience than their rivals. Yet the Singaporeans showed weakness early on and the Vietnamese didn't hesitate to take advantage of the opportunity.  
Vietnam worked hard and showed strong defense throughout. With no score during the two halves, it all came down to a penalty shoot-out. 
Goals were traded back and forth between the two sides with Vietnam looking confident until the end. The score was 6-5 for Vietnam when Rahim of Singapore failed to make the final shot, handing Vietnam a 6-5 victory. 
On the same day in another semi-final between China's and Vietnam's U-21, China proved too strong for the Vietnamese team and won the match. 
Despite gaining a 2-1 lead early on, Vietnam could not retain their strength and tried desperately to fight off the increasingly formidable Chinese. A serious mistake by Nhat Tan of Vietnam turned the ball in the wrong direction, scoring on his own team.  
Soon after, Xinli of China made a successful shot into Vietnam's goal. The final score of 3-2 gave China a ticket to the finals. 
Vietnam's U-19 and China's U-21 will start their race for championship victory at 3pm on October 18 while Vietnam and Singapore's U-21s will meet later to vie for the third and fourth spots at 5:30pm. Both matches will take place on Binh Duong grounds in the southern province of Binh Duong.