Swimmer Nguyen Thi Anh Vien is the youngest Vietnamese athlete competing at the upcoming Rio Olympic Games. She, however, will swim in four events, the largest number of competitions, compared to the other athletes.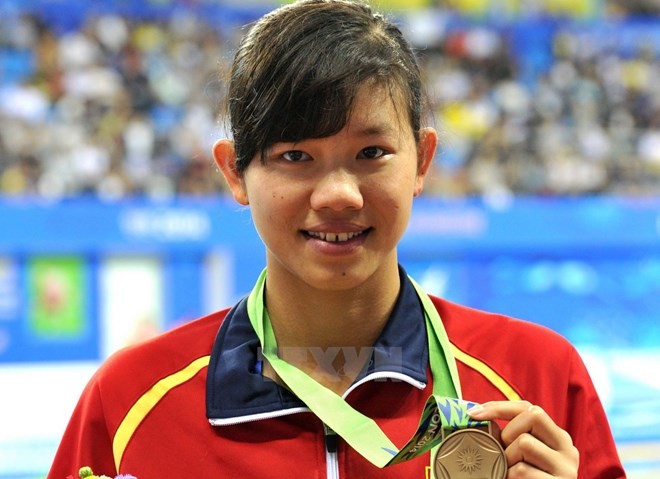 Vietnam's swimming star Nguyen Thi Anh Vien shows her Asian Games 2014 medal (Source: VNA).
The 20-year-old grabbed her fourth Olympics' A standard in the women's 200m pool at a tournament in the US two months ago.
Previously, Vien qualified for the 200m individual medley (IM), 400m IM and 400m freestyle.
Her results have placed her among the world's top 30 swimmers.
After shaking the swimming world at the Southeast Asian Games by capturing eight gold medals and setting eight records last year, Vien was seen less often, after she flew to train and compete in the US, in preparation for her second Olympics.
Vien, who arrived in Brasil last week, has set no target for this largest, global sports competition. She was also not mentioned at Vietnam's send-off ceremony as a hopeful medalist, as she was in the past.
According to coach Dang Anh Tuan, it would be to her advantage not to be pressured when competing against her elite rivals.
Weeks ago, Vien had to compete in 7km swimming race every day, while improving her physique with about two hours of daily weightlifting.
Now in Rio, she will focus on her four events, specially the 400m IM, which is her strongest specialty.
Vien also has to train at 10pm to become conditioned for the time scheduled for her competitions.
"It is the first time I am to compete in this time zone. I have to work harder, but it is ok, I will get used to it. The matter here is how to train well to assure the best results," Vien said.
Her top result in the 400m IM is 4min 38.78sec, which she accomplished nearly one year ago at the world championship, which placed her in the 10th position, while the London Olympic bronze medal was won with a score of 4:32.91.
Her training result is reported daily to the Vietnam Sports Administration, but it is not made public.
"I have not thought about a medal this year. I will just try to be one of the eight athletes in the finals. I may be in the 400m freestyle or 400m IM. But I will give priority to the medley, as I hope to make something special here," said Vien.
Coach Tuan said Viên made great progress in the 400m IM and she corrected her technical errors from other competitions.
"Vien is preparing to perform her best in 2018 at the Asian Games. In this Olympics, she may enter the top eight of one, or several events, but her chance to win a medal is not clear, because there is a gap between herself and the world's leading swimmers," said Tuan.
According to the schedule, the 400m medley will be held on August 5, the 400m freestyle on August 6, and the 200m freestyle and 200m individual medley on August 7.