MEXICO, June 17, 2010 (AFP) - French legend Zinedine Zidane lashed out at coach Raymond Domenech on Thursday as 1998 world champions France faced elimination from the World Cup.
Zidane, a member of the title-winning side from 12 years ago, but who was also red-carded in the 2006 final, believes Domenech got his selection wrong as France slumped to a 2-0 defeat against Mexico in Polokwane.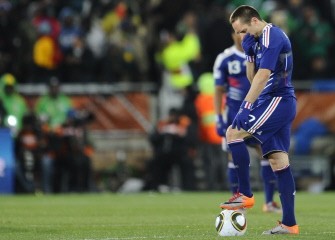 France's striker Franck Ribery reacts after their Group A first round 2010 World Cup football match. Mexico won 2-0. AFP
Zidane insisted that Domenech blundered by demoting Yoann Gourcuff to the bench and depriving the side of a creative spark.
"The coach made the decision but I don't agree with it," Zidane told Mexican television station Televisa.
"I am disappointed because France did not have a single shot on goal and that should be the least to be expected. Tonight the best team won.
"France did not play well, but they were against a very good team. Mexico were superior to France especially physically."