LONDON, March 27, 2010 (AFP) - West Ham manager Gianfranco Zola has hinted he may quit Upton Park in the aftermath of Saturday's 1-0 defeat to Stoke.
Only goal difference is keeping Zola's side above the Premier League relegation zone following the east London club's sixth successive defeat.
The Italian, who was strongly criticised by Hammers co-owner David Sullivan after the midweek loss to Wolves, could be ready to walk away as the pressure starts to take its' toll.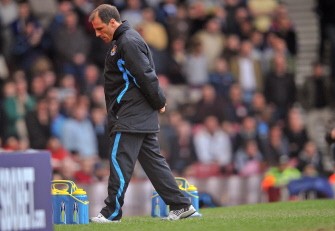 West Ham's Italian manager Gianfranco Zola reacts during the English Premier League football match between West Ham United and Stoke City at on March 27, 2010. AFP PHOTO
Asked whether he would consider resigning, Zola said: "I have to find out what the problem is. If the problem is me then why not?
"The players are trying hard for us. The bottom line is to see whether I can help them or not. I will consider overnight whether I am doing a good job or not."
Former Chelsea forward Zola, who took charge at West Ham in September 2008, admitted the result had left him at such a low ebb that the only option was to take a close look at the way he has been doing the job.
"Right now I am flat because we lost another game and it is the sixth and it is not good for me," he said.
"It is very painful and I will think a lot about how the situation stands and find a solution. We will see what we can do.
"If I don't think I am the man I will let you know but right now the players are behind us, we just need to change something to be more helpful towards them."
Sullivan said before the Stoke match that Zola would not be sacked if West Ham lost, but Zola expects a week of discussions before next Sunday's game at Everton.
"I know my duties and I know right now the situation is not going the way it should. I am prepared to accept the situation," he added.
"It is going to be a week in which we will be talking to each other."
David Gold, the Hammers' other co-owner, told Sky Sports later Saturday: "We had a meeting with him (Zola) and told him we were 100 percent behind him.
"It certainly won't be my decision (if Zola leaves West Ham) as we speak because my decision is that he is our manager as we speak."