LONDON, April 11, 2010 (AFP) - West Ham manager Gianfranco Zola insisted his team had not yet won their battle for Premier League survival despite a morale-boosting 1-0 win over Sunderland at Upton Park.
The Hammers' first win in eight games, achieved thanks to Brazil striker Araujo Ilan's second-half goal, saw the east London side go four points clear of the relegation zone.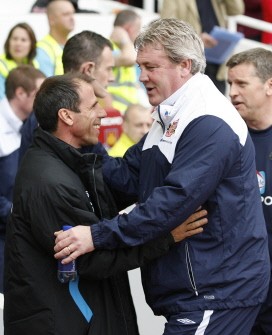 Gianfranco Zola West Ham (L) greets Sunderland's Manager Steve Bruce before kick off during a Premier League match at Upton Park in London on April 10, 2010. AFP PHOTO
But former Italy striker Zola, whose team next play Liverpool at Anfield, said: "I am absolutely delighted for the boys because I know what they have been through all this time.
"The result we got last week (2-2 draw at Everton) gave everybody a big boost. This is much better but it is still too early to celebrate. We are not there yet."
Ilan is on his way to cult-star status with the Hammers' faithful after also scoring the equaliser against Everton and Zola said: "Ilan has done very well.
"Last week he came on and he scored a very important goal for us and he has made his way through to the team. That goal he scored today was unbelievable.
"He is becoming very effective, but I don't think we have seen the best of him because he is still adapting his football."
Sunderland goalkeeper Craig Gordon, already booked for handling outside the area, was fortunate not to have seen red and concede a penalty in the 40th minute when he appeared to wrestle Carlton Cole to the ground.
Instead referee Mike Jones gave a free-kick to Sunderland. "I don't know why," moaned Zola. "It should have been a penalty."
The Hammers were finally rewarded six minutes after half-time.
Manuel da Costa punted in a long free-kick from the right-hand touchline, Cole beat Michael Turner in the air and Ilan got ahead of Paulo da Silva to steer the ball past Gordon with his right foot.
Sunderland manager Steve Bruce felt his side deserved at least a point.
"We were comfortable in the first half and should have got something from the game," said Bruce.
"The integrity of our players was there for all to see, as we gave our all and are desperately pushing for 10th place."
Bruce was critical of referee Jones.
The former Manchester United centre-half was particularly unhappy at the death when West Ham's players were celebrating, unaware substitute Guillermo Franco's 'goal' had been rightly disallowed for handball.
Gordon wanted to take the free-kick in search of an equaliser but Jones held up play until the Hammers players were back on the pitch.
"The referee was dross," said Bruce, whose side have won only once away in the league this season.
"He made some poor decisions. But I got fined last month and don't want to say too much. The tulips and daffodils are out now and I don't want to pay any more money."
West Ham's win confirmed bottom of the table Portsmouth's relegation.
"I am sorry for them and I feel for (Portsmouth manager) Avram Grant and his players but that is part of football. I have to think about my life and still I am not safe," said Zola.