Among the traditional fine arts and crafts, Vietnamese people maintain and restore silk weaving as a craft despite all the ups-and-downs. The materials are from the traditional handicraft villages in the country, mainly those in the North of Vietnam such as Van Phuc and Nha Xa.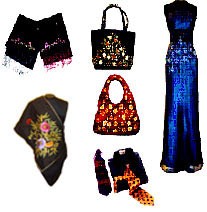 Some items in a silk shop
All products are hand-made by artisans. According to the weaving techniques, people call silk fabrics by various names such as ZK, damash, pasmina, jacquard, chiffon, organza, taffeta, linen, habutai – a name of a Japanese customer.

Silk products have its customer-base, especially with foreigners, despite the availability of the current industrial made products.  Silk is a favorite gift in Vietnam not only to family members but also to dear clients, especially to strengthen company and customer relationship ties.

Silk is appropriate for making all kinds of clothes, from underwear to wedding dresses. Also the customers find purses, wallets, handbags, scarves, ties, and embroidered paintings.

People do prefer silk for its unique characteristics: silk always feels cool and pleasant in hot weather and flexibly does not cling to the body in cold climate.

There are many stores along the tourist streets in HCM city such as Dong Khoi, Le Loi, Le Thanh Ton, Nguyen Hue … which sell silk products. It is, however, difficult for tourists to discover which one offers the best quality products.

To facilitate tourists' shopping, the Department of Tourism has selected these stores offering quality silk products to put them on its website. These shops in the list are Kenly silk, Creation, Khai silk and T&M silk.

All shops offer a wide range of readymade items in elegantly traditional or modern style as well as tailoring on demand.

Each store specializes in a unique silk item: Creation in Dong Khoi with 300 tie different patterns, Kenly Silk in Le Thanh Ton and Khai Silk in Dong Khoi offer scarves and embroidered paintings from Kenly Silk, the only shop with naturally-dyed silk. All products have price tags.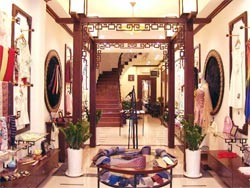 A typical silk shop in Le Thanh Ton Street

When asked about the measures they apply to keep their position on the list of the Department of Tourism, the managers state that they will make every effort not only to keep its place but also to develop to an international rank by the introduction of best–quality, new designs, and the provision of special treatment and excellent services.

The shop assistants are fluent in languages and they are trained in selling skill as well as how to entertain the visitors in the store. The display of items is focused to increase the store's appearance.

The Creation's director reveals that two new stores will open in 2006, also offering the same quality. An interesting news for shoppers is that all shops often give a discount; there are always sale off items at Kenly Silk while at KhaiSilk it will happen twice a year.

With the slogan "Vietnam–The hidden charm", the Department of Tourism wishes to renew its face to tourists in the world and to attract more people to come here, resulting in the increase of the national income.

According to the experts in tourism marketing, spending on shopping brings evermore revenue for tourism industry. 

Here is the website of Department of Tourism:
www.tourism.hochiminhcity.gov.vn