Pham Thi My Hanh, Manager of R & D and Marketing Department of PNJ
Great variety of products and services have for years made the name of a major jewelry company Ho Chi Minh City Phu Nhuan Jewelry Joint-stock Company (PNJ), whose offices were recently acknowledged the "Standard Tourism Service" by the Ho Chi Minh City Tourism Department.
Conveniently located next to Ho Chi Minh City's famous Ben Thanh Market, the shop of PNJ Jewelry attracts a lot of tourists. The vibrant atmosphere in town is the right location for buyers looking for precious gems in various forms and colors, known as the birthstones.
"For example, our Diamond, reserved for those who were born in April, symbolizes beauty and eternality, while the Pearl, which stands for innocence and purity, is favored by those whose birthday is in June", Ms. Trinh Thi Ngoc Phuong explains. She is the shop manager since 2004 when the PNJ shop was established.
According to Ms. Phuong, these stones prove unique in design. For opulent customer, they carry various and wonderful symbolic meanings relate to the owners' birthday.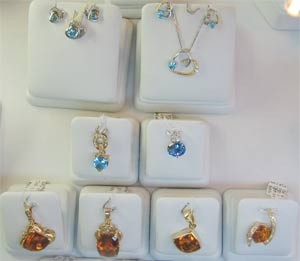 Meaningful birthstones
The joint-stock company Phu Nhuan Jewelry (PNJ) has been acknowledged the certificate "Standard Tourism Service" by the Ho Chi Minh City Tourism Department.
The quality includes the shops' measured space, the good facility, the security as well as the staffs' qualification such as their skill, education and ability in communicating with the customers.
To get the quality certificate, the PNJ's agencies including the PNJ Ben Thanh Shop, the PNJ Phu Nhuan Shop and the PNJ Tan Dinh Shop, have ceaselessly improved their services and operations to meet the strict tourism-service standards, said Ms. Pham Thi My Hanh, Manager of R & D and Marketing Department of PNJ.
PNJ produces a lot of diverse and innovative jewelry designs which aim at satisfying a choosy buyer. With concentrating on special products, PNJ Ben Thanh Shop stands out from other PNJ's agencies.
Besides a variety of fine jewelry collections, PNJ Ben Thanh shop executes the crafting of jewelry to the individual clients at their special order, says Ms. Phuong.
Another PNJ's high standard agency, PNJ Phu Nhuan shop is located on the main street leading to Ho Chi Minh City's Tan San Nhat airport
Ms. Nguyen Thi Hue, Manager of PNJ Phu Nhuan Shop recalled that the shop was the first one of PNJ' chain, under the auspices of the People's Committee of Phu Nhuan District, opened 17 years ago, marking the first step to the company's big success.
With such a long time in jewelry making, PNJ Phu Nhuan shop is able to meet all the buyers' demands with its adequate supply. Especially, it offers a huge collection of rings, necklaces and chains to beautify ladies on their special day such as weddings and anniversaries.
"Our regular customers praise their friends or relatives for the shop's high quality products and long-standing in the business, which brings us a significant advantage in getting more and more consumers", said Ms. Hue.
PNJ's tourism-service qualification had made a turning point in the company's activities, which will much more concentrate on the tourists' demands, especially foreigners', said Ms. Hanh, Manager of the PNJ Jewelry Company.
According to her, PNJ plans to launch more programs and services, aiming at foreign tourists; more PNJ shops will be recognized as standard tourist points from the Ho Chi Minh City Tourism Department. The finest of PNJ is currently located in Parson Sai Gon Tourist Plaza.
Also, more information in many foreign languages on the company's products and services will be popularized by different means such as the Internet and give-away CDs.
"These CDs, together with other kinds of souvenirs such as the traditional bamboo chopsticks as well as pocket-books will help the tourists not only to access the company's activities but also to understand the hospitality of the Vietnamese people," said Ms. Hanh.
PNJ Agencies qualified the "Standard Tourist Points"
PNJ BEN THANH SHOP
Address: 212 Le Thanh Ton St., Dist.1, Ho Chi Minh City, Viet Nam.
Tel: (08) 8248276 - 8247311
PNJ TAN DINH SHOP
Address: 292 Hai Ba Trung St., Dist.1, Ho Chi Minh City, Viet Nam.
Tel: (08) 8208790
PNJ PHU NHUAN SHOP
Address: 52 Nguyen Van Troi St., Phu Nhuan Dist., Ho Chi Minh City, Viet Nam.
Tel: (08) 8441208 - 8443839