Beside ancient architecture, handicrafts play an important role in making a wonderful Eastern atmosphere that appeals to tourists worldwide to come to Viet Nam. Among handicrafts that make Viet Nam's attractive Asian character is hand embroidery.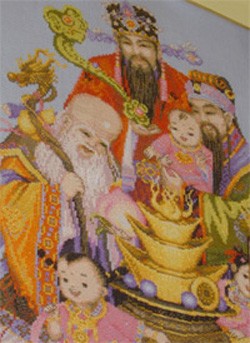 Hand embroidery picture of Happiness-Wealth-Longevity.
(Phto: C.H.Yen)
Kim Phuong Embroidery
The fine embroidery work is a skilled art-form done by traditional artists entirely by hand. The art is passed on from generation to generation. Its finesse and quality shows in the creations depicting complex design and detailed information in even a small piece of embroidery. The embroidery products are meaningful gifts and presents for foreign visitors when they come to Viet Nam.

To preserve and develop traditional hand embroidery to enhance the cultural values of the nation, Kim Phuong Embroidery has offered fine hand embroidered house linens and specialty gifts since 1989. The original designs, high quality fabrics and exquisite craftsmanship have established Kim Phuong shop as a well-known place in Ho Chi Minh City. Together with the high tourism-service quality, Kim Phuong Embroidery was rated as "Standard Tourism Service" by the Ho Chi Minh City Tourism Department.

A wide array of beautifully designed and expertly produced hand embroideries are available at Kim Phuong shop, located on Le Thanh Ton street. The shelves are filled with nice table-cloths, paintings, centre-piece bed sheets, bed covers, napkins, cocktail napkins, doilies, cushion covers, quilts, gift bags, handbags, t-shirts, children dresses, bread covers, cookie holders, shoes bags, tissue box covers, umbrellas… made from high quality silk, linen, and cotton.

Value of a hand embroidery work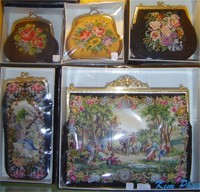 Hand embroidery purses.
(Phto: C.H.Yen)
To attract customers, Kim Phuong has taken care of designing new patterns and making use of unique vignettes such as plants, birds, flowers, folk pictures, landscape, countryside etc. The variety in product and design will add style to any home. With creative designers and with an artist's soul, Kim Phuong gives advice on interior decorations to make ordered hand embroideries blend well to the rest of the house collections, and to suit personal tastes and styles.

A finished hand embroidery artwork of Kim Phuong is made by a combination of embroidery and painting. Embroidering is an important stage that requires craftswomen to task with their emotion and creativeness. With their skillful hands and the use of vibrant and colorful threads, they convey the sensitivity of nature, flowers, and the soul of Vietnamese life to viewers. Each hand embroidery item not only has its own traditional value, but also a cultural one. Each work is carried out by a single artist. Each piece takes a great deal of time to complete, about two or three months working seven to eight hours per day.

Real-to-life creations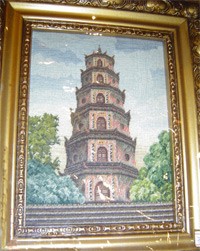 Hand embroidery picture of Thien Mu Pagoda.
(Phto: C.H.Yen)
Beside traditional embroidery technique of Viet Nam, the foreign technique of cross and half cross stitch embroidery is used to make embroidery pictures lively, attractive and special for Kim Phuong. The stitches are so smooth that the picture looks like picturesque. The artists are so talented to create something out of the ordinary. Kim Phuong presents a traditional and modern Asian art that captures the spirit, cultural complexity and charm of Viet Nam.

The favorite items which are usually shopped by French, American, Japanese and Korean visitors at Kim Phuong shops are table-cloths. This is an East and West combination on the product; Vietnamese cultural tradition, which is using thread to make a painting, is imbedded in a Western house linen. Embroidery is also done on umbrellas which shows the creativity of the artists and variety in Kim Phuong's art works.

But the most impressive is the oriental decoration at Kim Phuong shops. In a creative space, items are displayed harmoniously on ancient wooden shelves together with other antique decoration articles. This place displays a Vietnamese ancient atmosphere, it makes visitors coming here not only to look at the beautiful artworks but also to understand more about the culture in Viet Nam.

The organizing experience enables Kim Phuong to customize any orders with high quality products and services. Kim Phuong always puts the quality of the products at a premium, and this philosophy draws visitors back to Kim Phuong shops.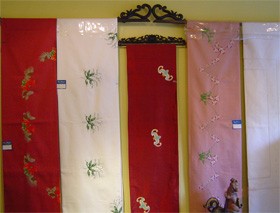 Hand embroidery table-cloths.
(Phto: C.H.Yen)

Store:
Address: 125 Le Thanh Ton Street, District 1, Ho Chi Minh City, Viet Nam.
Tel: (84)-8-8277 091

Office:
Address: 39B Ngo Duc Ke Street, District 1, Ho Chi Minh City, Viet Nam.
Tel: (84)-8-8225 665
Fax: (84)-8-8210 134
Email: sales@kimphuong.net, kpe&bn@hcm.fpt.vn
Website: www.kimphuong.net