Vietnamese footwear market is developing day by day. A lot of footwear brands were established. However, the market becomes more competitive and customers have a lot of options.
Footwear companies have to improve their products' quality, design, customer services, and marketing strategies … in order to exist and grow. Founded in 1942, Dong Hai Leather Footwear Company becomes one of the most successful brand names that is admired by local customers. And even foreigners choose Dong Hai Leather Footwear as their most favorite leather footwear brand. So that is the reason why it has just been admitted by the Tour Service as a "Tourist Standard Spot" in Ho Chi Minh City.

"Having that achievement, I also thank to my staff." Mr. Bui Quang Vinh, Manager of Dong Hai Leather Footwear Company said. "From the 67 years of experience in leather producing, and with everybody's hard working, now we have hundred different shoe designs. Our products are improved constantly to keep up with the development of fashion. Our customers are not only the youth but the old ones also". Visiting Dong Hai Leather Footwear shop, located in 229 Hai Ba Trung Street, customers can be lost in the world of leather shoes and will be welcomed warmly by smiling sellers.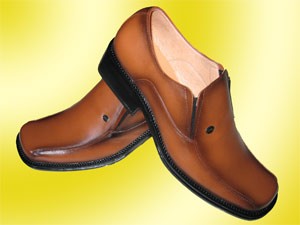 One of the Dong Hai made-by-hand leather shoes
Using durable leather for active feet, Dong Hai leather footwear has satisfied customers. Their designs are very refined; and support all-day comfort technology that keep warm customer's feet when it's cold and make them dry in the hot summer days.
The design of the Dong Hai shoes is always very refined
Besides the standard of shoe size, customers can order for their own extra large or extra small size within 7 – 10 days only. "We have a separate experienced group of workers to make the ordered size shoes in a short period of time" Mr. Vinh noticed, "so we can handle special cases. For example, orders from customers whose feet fit size 42 can be helped. Vietnamese customers usually do not go beyond size 42. Foreigners' feet are sometimes bigger. You can see that we take small orders which can be low profit, unlike other shops which only take big order."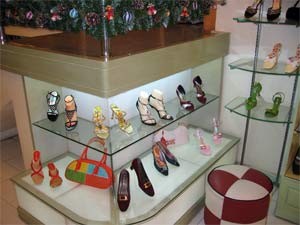 Beside of leather dress shoes, Dong Hai also produce handbags, walking sandals, wallets …
Because of using real leather, the shoes cannot be mass-produced, thus, all of Dong Hai leather shoes are made by hand. "Although we want to expand the business but we can not supply large quantities. We mainly supply shoes for the staffs in hotels, restaurant or foreigners who are working and living in Vietnam" assumed by Mr. Vinh. Beside of leather dress shoes, Dong Hai also produce handbags, walking sandals, wallets and belts, of course, they are made by leather. Mr. Vinh welcomes new customers at anytime, as Dong Hai Leather Footwear Co. wants to grow day by day.