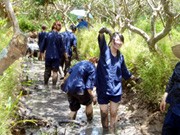 Japanese tourists catch fish in a one-day trip in My Tho
Although My Tho does not have as many places of scenic beauty as other famous tourist sites, the city has become more and more popular to tourists with its fishcatching and fruitpicking tours.
Spending one-day trip in My Tho, tourists from Ho Minh City will have a full day to relax and enjoy the beautiful scenery in My Tho as well as experience the local lifestyle of the southern Mekong delta people.
Sailing down the wind-swept Tien river from the boat station, you can have panoramic views of the rivers and rivulets, learn about Con Long, Lan, Quy, Phung (Dragon, Unicorn, Turtle, Phoenix Islet), and hear the stories of the countryside people's daily life and visit floating houses where fish are raised.
Arriving at Con Quy (Turtle Islet), tourists can keep walking on the dykes, making their way through fragrant longan orchards along the two dyke sides leading to a small canal, where tourists will have a chance to become farmers and try some specific activities of rural people including catching fish with bare hands.

Tourists are given 'ao ba ba' (a kind of shirt used by Vietnamese southerners) to catch fish flapping around in shallow muddy rivulets by removing water from them with long-handled buckets.
Smeared with mud, so dirty as it is, however this practice offers tourists lots of fun and a victorious feeling when grapping fish in their hands. These fish are then grilled on a bed of straw and served hot with fried fatty onion, which gives eaters a very delicious taste.
Tourists can enjoy listening to the Southern amateur music, travel for pleasure by boat along narrow canals in the shadow of nipa trees.
Besides, tourists can also stop at an orchard to drink tea mixed with honey and wander through a tropical fruit garden. Visiting some craft villages, tourists will have a chance to look at beautiful countryside girls making coconut candies all by hands and taste their delicious candies.
The trip to My Tho City can offer tourists lots of joy and pleasure despite a lack of comfortable facilities as the sincerity and friendliness of the countryside people here can compensate for the lack.